Art Deco Parade 2012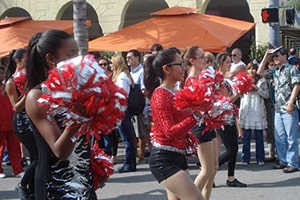 Anytime is fun time in South Beach Miami! And what could be more fun than watching a hometown parade?
And here it comes--- with the "roomp-pa-pa" of marching youth bands; beautiful ladies showing off their gowns; tuxedo clad men in jazzy jackets; dressed down clowns; carefully constructed floats; and of course, there is usually a stilt-walker or two to impress even the most cynical child.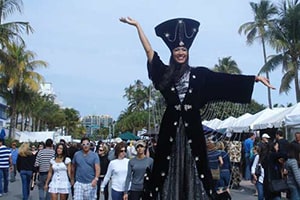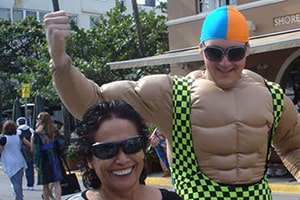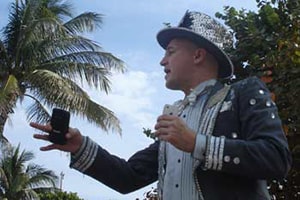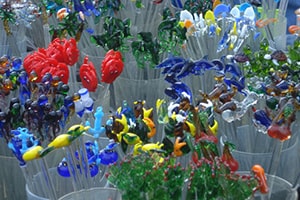 Every January, South Beach Miami celebrates its history with the Art Deco Weekend. It typically is scheduled by marking a big red "X" on local calendars for the third weekend of January. That Saturday is the big day of South Beach's Art Deco Parade.
The name says it all. It's Art Deco Weekend, OK?
This isn't a New York City or Philadelphia Thanksgiving Parade... but it's also definitely not two town dignitaries, a farm implement dealer pulling a borrowed hay trailer, and five kids pulling little red wagons.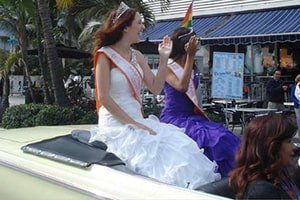 It is a parade from out of your distant childhood memories. Little girls long to grow up to be one of the beautiful ladies enthroned on a passing float.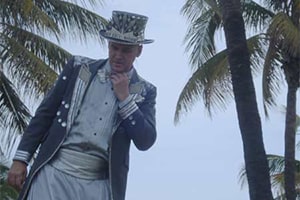 Smaller boys wonder if they could master the stilt-walker's art of pretending to fall, without really collapsing off their slender wooden supports.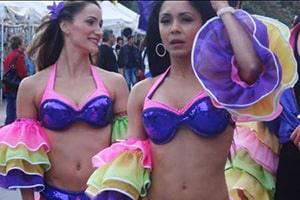 Male teenagers ogle the dancers from the Mango Bar with a faked disinterest.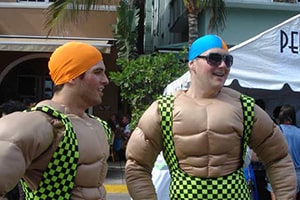 Adults laugh at giants proudly showing off their "muscles" to the crowd. Sometimes a pretty tourist wins a wink with a giant's smile.
Ocean Drive During the Parade
A parade is always an interactive affair between those folks in the parade, and spectators who are letting their ice cream cones melt while trying to take in everything.
Even local dogs (with their prospective owners) make a very special appearance in this parade --- and dogs in South Beach Miami are cuddly-cute; always perfectly dressed for the occasion! Some even manage to get a free lift from a pampering leash holder!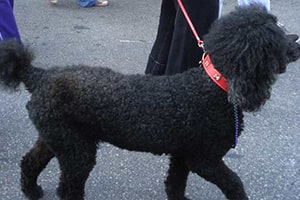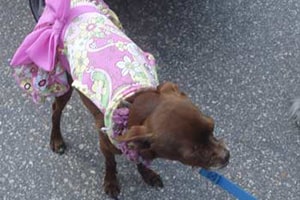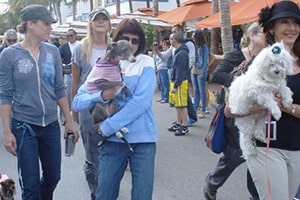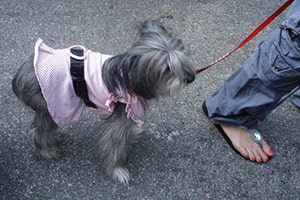 ---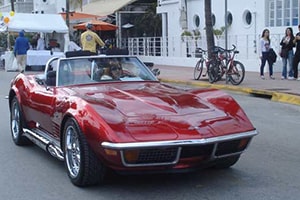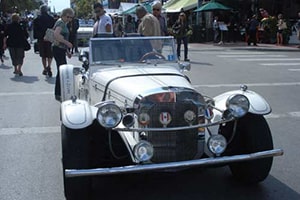 Plus, of course, there is a showing of classic cars. "My Dad had one of those, but it didn't look so long back then."
For your enjoyment, we've included a few pictures: of men on stilts (this one with an iPhone in his hand), Giants proudly showing off their big muscles, the Dancers from the Mango Bar, the Junior Orange Bowl Queen and Princesses, and marching local school bands.
---
---
This fabulous event, full of festivity, is shared by tourists and locals alike, and is sponsored every year by the Miami Design Preservation League.
It all boils up to a potent brew of fun stuff that you may want to keep in mind when planning your vacation to Miami South Beach.
Do you have a cute picture you want to add to our photo gallery?
Send us an e-mail to: info (at) hipstyleandvalue.com. Don't forget to put the name of the gallery - "Art Deco Parade 2012" - in the subject line.
Meanwhile, enjoy this pictures!