Where to shop
in South Beach Miami
Let's face it - some of us love to shop and some - don't. But even if you are a "born shopaholic," the fact that many airline companies limit luggage and charge for it, re-defined for many of us the whole notion of shopping experience.
As much as you love to shop, you may decide - you can always buy the same stuff at home. Or online.
That being said, where to shop in South Beach Miami?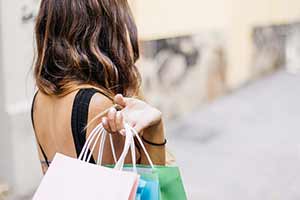 Lincoln Road Mall
This pedestrian mall, originally designed in 1957 by legendary Morris Lapidus, is the most popular place to shop in South Beach Miami.
On Lincoln Road, you can find the hippiest boutique stores (Armani Exchange, Diesel, Guess, Bebe, Victoria's Secrets, among others); many trendy restaurants and cozy coffee shops; souvenirs, books stores, art galleries, and much more.
There is a Macy's department store hidden at the back (Meriden Avenue and Lincoln Road). And the Regal movie theater at the end of the strip.
Espanola Way
You will find on Espanola Way street many cute restaurants, craft shops, specialty stores, and art galleries.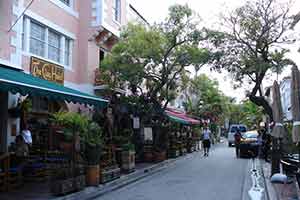 This small shopping area is located between 14 and 15 Streets in South Beach. Be aware that on this street, the cars are not allowed on weekends and weeknights.
---
Fifth & Alton Shopping Center
This shopping mall is a home for many discount stores like T.J.Max and ROSS. Also, Best Buys, Staples, and Publix Supermarkets are located in the same complex.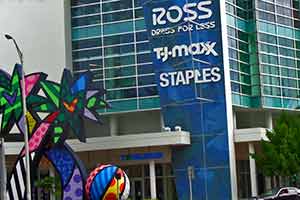 To get to this mall take a local South Beach's bus. Address: 101 5th St (at Alton Rd), Miami Beach, FL 33139.
Seventh & Collins Shopping Center
This is another adorable small shopping center where you find many luxury boutique stores like True Religion, United Colors of Benetton, and Diesel USA. And Sephora makeup and perfumes store, of course.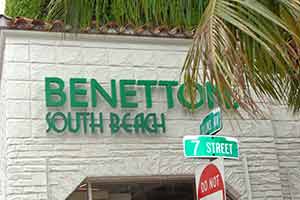 This shopping center takes a few blocks and located between 7th and 9th Street.
More shopping
Also, you can find many designer boutiques and one-of-a-kind stores on or around Washington Avenue, Collins Drive, and Ocean Drive.
More about the shopping malls in South Beach Miami on a next page »»»
Fashion inspiration
Souvenirs

Follow us on Twitter