"There are three centers of nightlife in the United States - New York, Las Vegas and Miami." ~ Anonymous
South Beach At Night
If you really can "dance all night", you are going to have a blowout nightlife in South Beach Miami nightclubs. These clubs are party-paradise for everyone who loves dancing!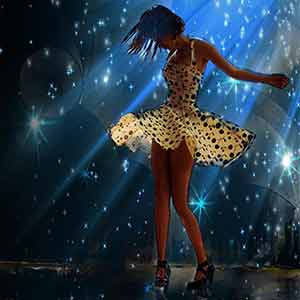 Just think of festive people, gala atmosphere, unbounded energy, and exotic music. Blend well, and you have the constantly changing scene that is South Beach Miami nightclubs. Then, imagine yourself there.
In Miami nightclubs everyone looks hot and sexy.
Or, very hot. And very sexy.
Visit a few South Beach Miami nightclubs once and you will want to go back again. And again.
And then – you'll want to visit all South Beach Miami Nightclubs. After all, the upbeat club music can reduce stress and make you feel more optimistic about life. You did say you liked to party, right?
---
The Best Time for a Nightclub
Not to worry, you party-pro, the nightclubs are typically open from 11:00 PM until 5:00 AM. You can even order the line pass to the hottest South Beach clubs on the Internet.
Dress Your Best
Many South Beach Miami nightclubs strictly enforce their dress code. So, choose your club outfit carefully. And this is equally true for women and men.
Admission to a club is at doorman's discretion. If not dressed right, they may not let you in, which could be a great disappointment, especially after waiting in line for an hour.
Plan Your Play and Work the Plan
Most of the nightclub patrons we met had planned ahead for coming to South Beach Miami. The majority of these folks came to Miami with their "Nightclubs to Visit" List prepared in advance. Now that is being ready to party!
People could be found from many different parts of the world. All seemed to have only one goal in mind - to be part of the famous South Beach's Nightclubs scene.
And of course - providing they got out of bed by late afternoon - they wanted to enjoy the sun-drenched, white-sand beach, and the ever-great shopping before another round of nightlife.
Not Sure Which Club To Try?
If you are not familiar with South Beach Miami Nightclubs, here are the tips.
More on the next page »
Useful Links
Fashion Advice
"The key to looking great in the evening is to look original.
Try to look different from others without looking out of place.
When everyone else is wearing black, stand out in a bold, bright color.
Focus on one thing.
Will it be a statement necklace, a stunning pair of earrings, or really big hair?
You decide."
fashion designer Isaac Mizrahi, "How to Have Style"

Follow us on Twitter