Pink Flamingos at Jungle Island, Miami
South Beach Miami on a Budget
---
Pink Flamingos Birds at Jungle Island
There are so many pink flamingos at Jungle Island that they built the whole separate island for them behind the pond. It's called - the Flamingo Island.
You can't really walk around that Flamingo Island, only look from the distance, but even watching this colony of pink tall birds with long legs is an astonishing experience!
Jungle Island Theme Park
Sometimes flamingos stand on one foot and watch the crowd. Sometimes they walk around the island searching for food. Regardless, they look beautiful! Jungle Island is a theme park and zoo. Kind of. You can spend the whole day in the park learning about tropical birds and animals.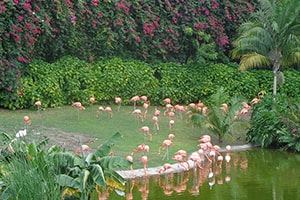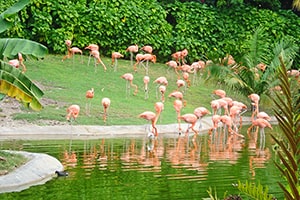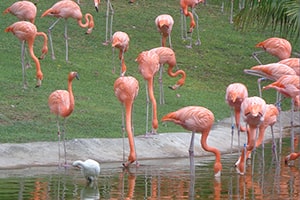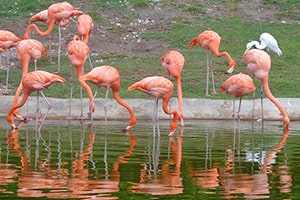 ---
Coming from South Beach
You can also relax in the shade or eat your lunch in the Jungle Island cafeteria. Jungle Island is Not Miami Metro Zoo - even so many travel agents call Jungle Island a zoo. Miami Metro Zoo is in southwest part of Miami, in different part of town.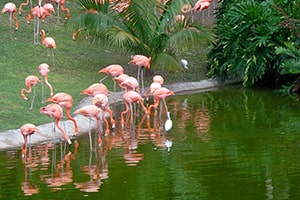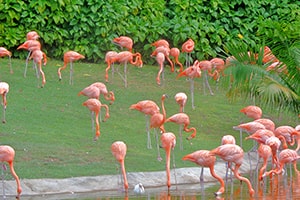 ---
How to Get There
Jungle Island park is located between Downtown Miami and South Beach. If you are staying on South Beach Miami you can easily get to Jungle Island using public transportation. Any bus coming from South Beach to downtown Miami will bring you to the Jungle Island park. Make sure you ask the driver to make a stop! Sometimes they forget. The bus ride takes about 10 minutes.
Quick Links
In Pictures
---
Video - Millionaire's Row - Homes of Rich and Famous
---

Follow us on Twitter