Men's fashion
In a few words, we can describe the Miami men's clothing style as relaxed and comfortable. Or very relax. And very comfortable.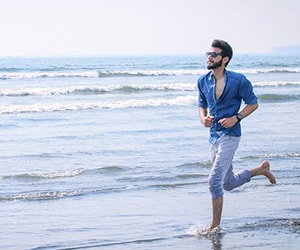 Miami weather
The average temperature in Miami is 80 degrees Fahrenheit / 26 degrees Celsius. During the rainy season, you may have more days of rain, but it is still warm. Plus, rain in Miami usually doesn't last long. You hide somewhere for an hour and then - go on with your life.
Spring, summer, fall
In spring, summer, or fall, visitors spend most of the time on the beach. All you need is the beach pants, flip-flops, sunglasses, and many T-shirts. Buy T-shirts of a solid color - white, black, navy, maroon, dark green. Tons of options are out there.
Winter
In the winter, the temperature drops at night, and it could become very windy, so the leather jacket may be the right thing to wear at night.
Casual look
For the casual look at night, wear a Henley shirt with or without the sleeves. You can always roll out the sleeves for a more sexy look.
Also, the fitted style color stitching T-shirts are in this year — scroll down for many more tips and to shop.
White or black minimalist sneakers will work for any occasion. But if contrasts are something you prefer, then try wearing Blue or Red suede fashion sneakers and everything else - black.
Dress code for men
According to men's fashion style guru, Antonio Centeno, "For men, there is ALWAYS a dress code. You need to know the dress code rules, master them, and bend them to your will." How much of his advice you will follow - is really up to you.
What to wear to a nightclub
Dress your best. In many South Beach Miami nightclubs, the dress code is strictly enforced, and admission is at doorman's discretion.
Color-coordinated clothes
Even the most expensive clothes won't look good when the colors don't agree with each other. So, regardless of what you wear, your clothes should be color coordinated. Try different shades of the same color. It usually works.
Graphic T-shirts
Most graphic T-shirts are cute, but you need to know how to wear them. According to many fashion experts, the graphic T-shirt looks the best on a white or black background because the message is easy to read. Also, a good fit is essential. Make sure your graphic T-shirt is not too long and not too big. Wear with a jacket at night and fashion sneakers.
Just for fun
If you have a good sense of humor and not afraid of experiments, try LED suspenders or LED Neck Tie.
What else
Learn how people spend a typical day in South Beach Miami. It will give you even more ideas about what to wear and what to pack for your Miami vacation.
---
Men's Skinny Pants
Victorious Men's Skinny Fit Color Stretch Jeans. Cotton and Spandex. Available in 28 different colors.
Water Resistant Watch
Invicta Men's 'Pro Diver' Quartz Stainless Steel Casual Watch, Color Two Tone (Model: 25815). Water resistant to 100m (330ft). Suitable for swimming and snorkeling, but not diving.
Leather Jacket
Genuine Lambskin Vintage Leather Jacket.
Levi's Jeans
Levi's Men's 511 Slim Fit Performance Stretch Jeans. Available in 8 other colors.
Sling Backpack
Plus Oversized Sling Backpack 28L, Fit for 14 Inch Laptop.
Cargo Pants
Match Wild Cargo Pants. Comes in 45 different colors.
Accent Bracelet
Geoffrey Beene Men's Braided Genuine Leather and Stainless Steel Filigree Accents Bracelet with Magnet Closure.
---
---
Chain Bracelet
Geoffrey Beene Men's Stainless Steel Double Franco Chain Bracelet with Extension.
Cotton T-Shirt
JNC Summer V-Neck Cotton T-Shirt. Comes in 6 different colors.
Shirt
Goodthreads Slim-Fit Long-Sleeve Large-Scale Check Shirt.
Flip-flops
Soft Flip-Flops Sandals. Light Weight. Shock Proof.
Workout Tank
Neleus Workout Athletic Muscle Tank with Hoods. Pack of 3.
Contrast Color T-Shirt
LOGEEYAR Premium Fitted Contrast Color Stitching T-Shirt. Comes in different colors.
Tiege Skin Care
Tiege Hanley Men's Skin Care System.
Sweater
Just No Logo Men's Relaxed Fit Quarter Zip Sweater. Many colors.
White Comfort Sneakers
Tommy Hilfiger Men's Pandora Shoes.
Color Stitching T-Shirt
LOGEEYAR Short-Sleeve Slim Fit Cotton Polo Shirt. Also, available in different colors.
Navy Comfort Sneakers
Tommy Hilfiger Men's Ramus Sneakers. Also, available in red and white.
Waterproof Beach Blanket
Waterproof Beach Blanket 55"x78" with Attached Ground Stakes.
Rugged Jacket
Legendary Whitetails Flannel Lined Rugged Jacket.
Beach or Work Shorts
Beach or Work Shorts with Pockets.
Running Shorts
BIYLACLESEN Lightweight Running Shorts with Zipper Pockets.
Fashion Sneakers
Bernie Mev Fashion Sneaker.
Single Button Short
Aiyino Slim Fit Single Button Short. Available in 10 different colors.
Summer Hat
Sedancasesa Unisex Sun Hat.
Duffel Bag
NUBILY Canvas Oversized Waterproof Duffel Bag. Genuine Leather Straps.
Polo Shirt
LOGEEYAR Slim Fitted Casual Contrast Color Stitching Tee. Available in many colors.
White Linen Shirt
Amazon Essentials Men's Regular-Fit Long-Sleeve Linen Shirt.
Gingham Casual Shirt
Amazon Essentials Regular-Fit Long-Sleeve Gingham Casual Poplin Shirt.
Hamoery 8mm Lava Bracelet. Aromatherapy Essential Oil Diffuser Bracelet. Yoga Beads.
Deep V-Neck Tee
ahbreton Deep V-Neck T Shirts. Undershirts Tee.
NEXT, read about what to wear to a Music Festival.
---
If you want to know the latest trends in women's fashion, read BELOW:
---
Last updated on Aug. 12, 2020.
---
Disclosure: Links to these items have been handpicked by our editorial team. We have affiliate relationship with Amazon.com, so in some cases, if you purchase an item here, we may get a small share of the revenue from your purchase.