Packing for the trip
"Travel light. Preconception and prejudice are unnecessary luggage." ~ Anonymous
Whether you are coming to South Beach Miami for a weekend, planning a month long vacation, traveling on business or pleasure, packing a suitcase is always a challenge - you feel that you need a different travel bag. Not to mention that traveling from the cold climate to sunny Florida you may have to bring summer and winter clothes at the same time.
Be practical and pack smart
Before you decide to run to the store looking for that magic suitcase that fits everything you need, think twice. Packing smart may help.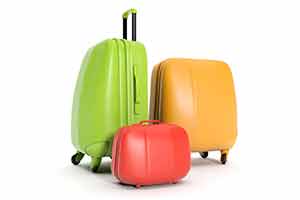 Here are our recommendations on How to Pack a Suitcase.
Make a checklist
Write a list of every item you need to take for your trip: clothing, shoes, toiletries. Do it a few days before the trip, then review your packing checklist a few times before you start packing. Do you really need five sweaters or three pairs of hiking boots? Then update your list.
Large item vs. small items
Separate the large items from the small ones. You will put all small items in empty corners of your luggage later. For now - put them aside.
Roll it
Roll everything. Lay two or three items of the lighter clothes on top of heavy clothes (jeans for example) and roll them up.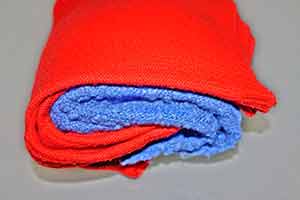 Same as you would do with towels or a sleeping bag. This prevents wrinkles in your clothes and saves space. You will be surprised how much you can fit into your luggage when you roll your clothes.
Packing cubes
Travel packing cubes make sorting and finding your things much more manageable. You can put a travel cube in a duffel bag or a suitcase. I own at least four packing cubes and use them all the time.
---
Make your suitcase
bottom-heavy
Put your suitcase in the upright position and everything that has weight – books, shoes, etc. - put at the bottom of your luggage. Remember the law of gravity? If you don't put your heavy stuff at the bottom, the law of gravity will do it for you. And on its way, it will squash all your clothes and leave an empty (and unused) space on top of your luggage.
Fill all empty spaces
Now take all small items you put aside and put them into the empty space of your luggage. Sometimes it saves space to put a few small items in a plastic bag or packing cubes and then put them in all empty corners of your suitcase.
What to take on a plane
Wear the most important and the most tailored items in your travel wardrobe - a suit, blazer, trench coat - on the plane and hang them up when you're not wearing them so you don't have to worry about wrinkled clothes when you arrive.
Ship it
Ship heavy, bulky, or unneeded items back to your house or business. Fedex now has special low rates for this type of shipment.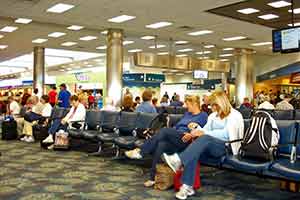 Airport security
If you are unclear about what you can and what you can't bring to the airplane, check the official TSA website for latest updates. It is always good to be prepared!
Looking for more tips on how to pack for vacation? Check out our article What to Wear in South Beach - Miami Packing List.
Happy packing!
Jessica Gale, hipstyleandvalue.com
Last updated on May 9, 2021.
Travel Checklist
Plane Tickets
Passport
Drivers License
Travelers Checks
Pocket Money
Money Belt
House Keys
Camera
Camera Accessories
Cell Phone
Cell Phone Charger
Book to Read
Mini Hair Dryer
Pen and Paper
Exercise Clothes
Bathing Suit
Flip-Flops
Toiletries
Aspirin
BandAides
Foldable bags for souvenirs
---
Extra Tip: Cook your meals
I don't know about you, but when I travel, I usually stay in a hostel with a kitchen or rent a place for a few weeks. To save money, I cook my meals with Aroma mini rice cooker.
---
Recently Updated Articles
What to Wear

Follow us on Twitter