Outfits to wear to the club
Unless you are a big celebrity and rules are not applied to you, when going to the nightclub, you need to choose your outfit carefully. What image do you want to project?
Nightclubs have a dress code, and it is usually reinforced.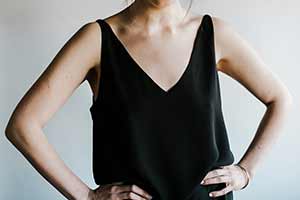 Black dress is a classic
Want to make a statement? Wear a short black dress with lace and a chunky heel sandals. It is a simple classic outfit that will never go out of style.
Wear a red dress so people would remember you
You also may try this - wear a short red dress, black high heel pumps (we think these pumps with ankle strap would look right at the night club), and signature accessories! After all, men always remember a woman in red!
Wear a satin club dress for more sexy look
A backless satin slip dress, hot pink or leopard print, is always the right choice for a night club. Style it with a suede cropped biker jacket, elastic bracelet set, and stackable rings. It will add more personality to your outfit.
---
Wear velvet pink dress if you want to look hot
If a red dress, black dress, or silk satin dress is not your style, try a velvet hot pink dress with low heel pumps.
Nightclub Sandals
Makeup for a nightclub
Since you will spend a lot of time on a dance floor, you need to use a sweat-proof makeup. Everything, your mascara, eye gloss, eye shadow, eyeliners, makeup foundation should say "longlasting" or "sweat and humidity-resistant" on a label.
What kind of purse to bring at the nightclub?
Wear a club dress with a cute wristlet or a little crossbody bag - something small to keep all your essentials: your credit card, cash, lipstick, hotel key.
Party Sandals
The micro-trend this season
This month everyone is talking about heart-shaped jewelry - bracelets, earrings, necklaces. The micro-trend usually doesn't last long, maybe one season, but it is always fun to follow.
If in doubt
If you are in doubt about what to wear at a nightclub, call the club and ask about their dress code. And be prepared that the nightclubs take their dress code very seriously.
Jessica Gale, hipstyleandvalue.com
---
Black Plus Size Club Dress
Sequin Plus Size Club Dress
Plus Size Red Club Dress
Lace Black Club Dress
Evening Shoes
Plus Size Red Club Dress
Bandage Black Club Dress
Micro Trend: Heart Earrings
Micro Trend: Heart Bracelet
---
Last updated on February 7, 2020.
---
Disclosure: Links to these items have been handpicked by our editorial team. We have affiliate relationship with many stores, so in some cases, if you purchase an item here, we may get a small share of the revenue from your purchase.