For the love of florals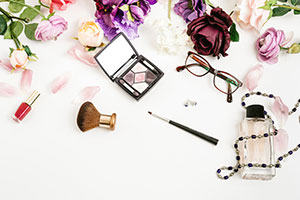 The floral dresses are very feminine and look great in summer. You can wear them everywhere during the day or at night.
What to wear over a floral dress
For a casual look, wear a floral dress with a denim jacket, light color cotton utility jacket, or solid color cropped cardigan. A short floral dress you can pair with a motorcycle leather jacket.
What shoes to wear
Pair a floral dress with beige summer sandals or the black suede kitten heel shoes.
Jewelry for a floral dress
Any simple jewelry would work. A white freshwater pearl bracelet and small gold earrings would look good with a floral dress. The best part - most likely you already have them at home, and you don't have to buy them.
What colors go together with a floral print dress?
Pull one dominating color from the pattern and try to match the accessories (a handbag, hair accessories, belt, even shoes) with that color. Sometimes this color is the base color of the dress, and sometimes it is the color of the pattern. It all depends on what you like. Or, if in doubt, wear natural colors.
Nail polish that goes with a floral dress
At night, use a glitter nail polish, and during the day, wear a nude or beige color.
Wear natural makeup
Many makeup artists recommend staying with natural colors - natural, warm shades, nude lips, little (if any) mascara, no eyeliner.
Finally, when NOT to wear a floral dress
If you are planning to give a TV interview or speak to the press in front of the public, it is recommended to wear a solid colors. With very few exceptions, the floral prints look like a distraction on TV screens.
---
Happy Sailed Ruffle Layer Backless Summer Floral Dress. ($29.99.)
Trending: Sea Glass Jewelry
Ocean Waves Sea Glass Pendant Necklace. ($27.80.)
FANCYINN Summer Floral Dress. Comes in many colors. ($20.99.)
BELONGSCI Bell Sleeve Summer Floral Dress. ($26.99.)
---
---
Sterling Silver Open Heart Threader Drop Earrings. Rose Gold. ($19.00.)
Hamoery 8mm Lava Bracelet. Aromatherapy Essential Oil Diffuser Bracelet. Yoga Beads. ($7.99.)
Naturalizer Emiline Slip-On Loafers. ($62.99.)
REPHYLLIS Chiffon Vintage Print Maxi Floral Dress. ($26.99.)
R.Vivimos Summer Maxi Floral Dress. ($19.99.)
GRECERELLE Bohemian Maxi Floral Dress. ($29.99.)
HOMEYEE Embroidery Party Dress. ($33.99.)
Milumia Boho Button Up Split Summer Floral Dress. Sizes XS - XXXL. Many colors. ($26.99.)
Hiigoo Printing Canvas Shoulder Bag Retro Style. ($19.98.)
Meeshine Summer Sandals. ($22.99)
FANCYINN Floral Dress. ($21.99.)
Chikool High Waist Yoga Pants with Mesh. ($19.99.)
Urban CoCo Chiffon High-Waist Maxi Skirt. ($25.86.)
Relipop Summer Floral Dress. ($22.99.)
---
Are you looking for more fashion inspiration? Check out some of these similar articles:
Last updated on Aug. 12, 2020.
Disclosure: Links to these items have been handpicked by our editorial team. We have affiliate relationships with many stores, so in some cases, if you purchase an item here, we may get a small share of the revenue from your purchase.