Free Events in South Beach
There are many free events in South Beach Miami. From free hours in the museum to free Movies Under the Sky to Miami Beach Botanical Garden. When you are in South Beach, there is always something to do.
The Wolfsonian-FIU - A Museum of Modern Art and Design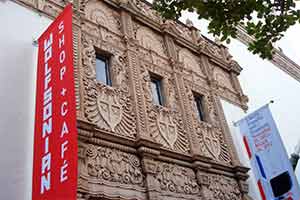 This absolutely adorable museum located in the heart of historic Miami Beach, within easy walking distance of the world-famous Art Deco hotels.
Wolfsonian-FIU address: 1001 Washington Avenue Miami Beach, FL 33139, at the corner of 10th Street and Washington Avenue, Tel: 305.531.1001.
Free admission after 6pm on Fridays.
The Bass Museum
The Bass is Miami Beach's contemporary art museum. They offer the free guided tours of the museum every Saturday and Sunday at 2 PM.
Address: The Bass Museum, 2100 Collins Ave. Miami Beach, FL 33139. Tel: 305.673.7530
HIIT the Market
Free full body High-Intensity Interval training workout with a signature 60-minute RoyaFit Bootcamp on Ocean Drive. RoyaFit is a full-service luxury fitness & wellness concierge.
This event is Dog-Friendly, Kid Friendly.
Bring water and a towel.
Address: Lummus Park between 13th - 14th on Ocean Drive.
Every Saturday at 10 AM.
Cost: Free.
Free Movies Under the Sky
Arts in the Parks is part of FREE SOUNDSCAPE CINEMA SERIES. Location: the south-west corner of 17th Street and Washington Avenue.
Wednesday Nights at 8:00 p.m. Schedule / more info here.
---
---
Miami Beach Botanical Garden
This adorable little park full of exotic flowers is located behind the Convention Center. Open free to the public 9 - 5 P.M. Tuesday - Sunday. Closed on Monday. Address: 2000 Convention Center Dr, Miami Beach, FL 33139.
Cultural Fridays On Calle Ocho
Cultural Fridays at Little Havana features outdoor musical performances on a stage and along the sidewalks of Cal le Ochoa, art exhibits, cuisine tasting and more. It takes place in the historic Little Havana neighborhood of Miami, FL, 8th St. SW between 14th and 17th Avenues. 6:30 p.m. and 11 p.m..
Last Friday of each month.
Lincoln Road Farmers Market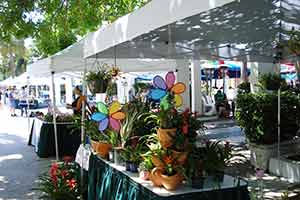 Spectacular display of fruits, veggies, fresh flowers and plants, bread, honey.
Every Sunday 9 A.M. - 6 P.M.
Art Center
The Art Center/South Florida is located on Miami Beach's historic Lincoln Road between 16th and 17th streets.
Free admission.
Espanola Way Weekend Festival
Jewelry, candles, pottery, clothing, artwork and other hand-crafted items. Great food and a lot of fun!
More info: 428 Espanola Way Miami Beach, FL 33139 (305) 531-0038
Every Friday, Saturday and Sunday.
Free Yoga Classes in Flamingo Park
Stretch, breathe, relax, and find your center. Flamingo Park Miami Beach, Meridian Ave & 13th Street. Sponsored by the City of Miami Beach. Ongoing.
Contact Synergy Center at 305.538.7073 for more info. Suggested donation: $3.
Creative Mornings
Creative Mornings is a free monthly breakfast lecture series designed for creative communities. Check what is happening in Miami this month.
Toastmasters Club
Toastmasters Club is a nonprofit educational organization. The main goal is to promote communication and public speaking. They meet at Miami Beach Botanical Garden at 2000 Convention Center Dr Miami Beach, FL every Thursday at 6:15 PM. For more information click here.
Useful Links

Follow us on Twitter