Budget Hotels & Hostels in South Beach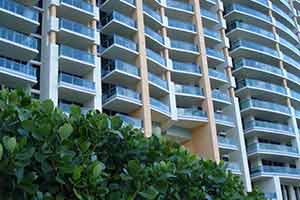 There are hundreds of hotels to choose from when selecting a place to stay in South Beach. They range from very expensive luxury hotels to very inexpensive hostels. There is some place for everyone.
We think there are three primary factors to keep in mind when choosing your home base location:
How Close Your Chosen Hotel Is to Lincoln Road
Lincoln Road is where most action takes place during the day, and more so at night. There is also a pedestrian shopping mall there. Here, too, is where many other interesting attractions are located. Most restaurants are on Lincoln Road, both the very expensive type and a more reasonable priced variety. You can find exquisite boutique shops, the movie theater, and a concert stage where free events are often staged at night.
How Close You Are to the Beach
During the day, all life in South Beach revolves around the shoreline. Hotels that are directly on a beach (Delano, Loews, Setai, and St. Moritz) are very expensive. They also have a spectacular view of the water, plus superior service, of course.
But if you are on a budget, and a water view is not your top priority, you can always find something much less expensive within one block of the beach. Yes, you will walk for two minutes (walking is good for your health, right?) And you will save a lot of money.
---
Make Sure Your Hotel Has a Swimming Pool
Not all hotels have one. You need to check this. The sun is strong during the day. After the sun's peak near the noon hour, it is still always nice to have a place to hide away in the shade for the afternoon, off the beach. If your hotel lacks a swimming pool, you have to figure out what to do with yourself. Of course you can always go see a movie--there is a movie theater at the end of Lincoln Road--or you can go shopping. But check it out before you decide on a hotel.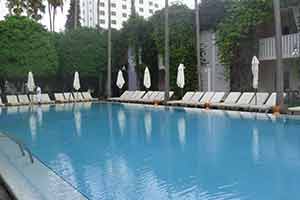 During the past decade, I have stayed at the Tropics and Clay Hotels dozens of times. Both hotels were relatively inexpensive and part of each hotel functioned as an International Youth Hostel. Clay Hotel closed its Youth Hostel a few years ago, but the Tropics' Youth Hostel is still functioning.
If you are an extreme nightclub fan, there is a hostel almost next door to Nikki Beach nightclub and very close to Mansion, another popular club. The Mansion brought so many tourists to the area that it helped in the development of the new shopping center. That center now includes popular boutique stores and numerous brand name stores.
What Else...
• New budget hotels and youth hostels are frequently opening in South Beach, so prices are constantly changing. Check them if you return another year.
Keep in mind that most youth hostels offer a few single and double rooms, so if you assume that youth hostels are only for young people who don't mind sleeping on bunk beds, you may be wrong. Many youth hostels are located in prime locations and function similar to small budget hotels.
• People I have met staying in youth hostels were from all walks of life. They were adventurous types. Typically traveling on a budget, they preferred to stay in one place for more than two days. Longer stays at the top price hotels could be difficult on their limited budgets.
• Anyhow, when you are in South Beach, you don't really spend a lot of time at your hotel. There is too much to do: dipping your toes in the ocean, crowd watching on the boardwalk, surveying the restaurants and nightclubs, and shopping for that special buy. Most South Beach vacationers are out of their hotel a great deal of the time.
Jessica Gale, hipstyleandvalue.com
NEXT, read our article about Where to Buy Food in South Beach.
Recently Updated Articles:
---
Did You Know?
The South Beach starts at 1st Street and ends at 23rd Street.
If You Get a Sunburn
The first remedy - buy Aloe Vera Gel in the closest CVS Pharmacy or Walgreens store and apply it generously to all areas of the skin. Gently massage until gel is completely absorbed. Aloe Vera Gel helps restore moisture to damaged skin and prevents peeling.
Last updated on May 8, 2021.

Follow us on Twitter