Virtual Tours
*** While we all practice "social distancing" during the coronavirus epidemic, the City of Miami created a new portal a Virtual Culture"- live streams and virtual tours of many cultural institutions (museums, theaters, concert halls). A great way to learn about Miami culture! ***
---
Miami and Miami Beach
Miami and Miami Beach are really two separate cities. Miami, on the mainland, is South Florida's commercial hub. Miami Beach, on 17 islands in Biscayne Bay, is sometimes considered America's Riviera.
History highlights
The South Beach is a section of Miami Beach. It is located on an island between Biscayne Bay and the Atlantic Ocean.
• The South Beach Miami starts at 1st Street and ends on 23rd Street.
• About 100 years ago Miami was mosquito-infested swampland with an Indian trading post on the Miami River.
• South Beach was the first section of Miami Beach to be developed in the 1910s.
• The 1926 hurricane destroyed a major part of Miami.
• In the 1950s thousands of Cubans fleeing the regime of Fidel Castro arrived in Miami.
• In the late 1970's, many refuges from Haiti also began settling in the Miami area.
• the late 1970s and into 1980s, South Beach was mostly a retirement community.
• In 1980 Miami had the highest murder rate in America.
• In the late 1980s a renaissance of South Beach Miami Riviera.
• Today South Beach Miami is a popular travel destination for people of all ages.
Economy - quick facts
Tourism is main industry in the Miami area producing billions of dollars every year. The Miami metropolitan area also has many light manufacturing plants. Factory production includes furniture, clothing, metal goods, printed material and transportation equipment.
Airports
Miami International Airport is one of the world's busiest terminals. The airport serves as the main gateway between the United States and Latin America.
Miami also has a number of small airports.
If you are flying inside the United States, you can arrive at the Fort Lauderdale airport and take a shuttle bus to South Beach.
Miami Port
The Port of Miami handles passengers and cargo ships from all over the world.
Peak tourist season
From mid October through April is peak tourist season in Miami.
---
---
More info bits
• Miami Beach population is 92,307 (2017).
• Miami population is 463,347 (2017) and growing.
• Miami has the biggest Latin American population outside of Latin America.
• Miami Beach has often been rated as one of the 10 best vacation spots in the world.
• Time Zone: Miami like New York, is in the Eastern Standard Time (EST) Zone.
• Miami Sales Tax is 7%.
• Miami temperature averages 81o F (27o C) in July and 71o F (22o C) in January. The coastal ares have slightly colder summer and warmer winter temperature than do the inland areas.
Cultural life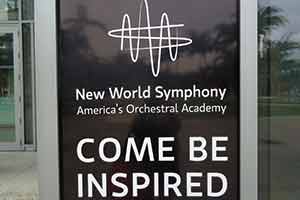 Miami has very interesting cultural life.
There is an opera company, two dance companies, dozens of art galleries and theaters in Miami.
The downtown Miami-Dade Arts Cultural Center houses the main public library, the Miami Art Museum, and the Historical Museum of Southern Florida.
In South Beach you will find the concert hall of the New World Symphony Orchestra (our favorite place!), Regal Movie Theater on Lincoln Road, Miami Convention Center, many art galleries and much more.
Sports
The metropolitan area is also the home of the Miami Dolphins of National Football League, the Florida Marlins, National league Baseball Team, the Miami Heat of the National Baseball Association, and the Florida Panthers of the National Hockey League.
Useful links
Do you need a car in South Beach Miami?
In South Beach Miami everything is within walking distance and parking is a costly nightmare.
---
If you like humor...
---
M.i.a.m.i. stands for:
M - oney
I - s
A
M - ajor
I - ssue
---
• South Beach is a place you never have nothing to do.
---
• South Beach is a place where age is literally just a number.
---
• South Beach Miami is an international destination for an American. The only thing is different - you don't need your passport!
Information Source: Urban Dictionary
---
If you are looking for this year's specific event information, check out events calendar or our ongoing (and free) events list.
Additional Resources:
Art Lovers Weekend Escape - curated by Greater Miami and the Beaches.

Follow us on Twitter