What to wear at the beach
Believe it or not, but the topic of what to wear to the beach in Miami is very trendy among travelers.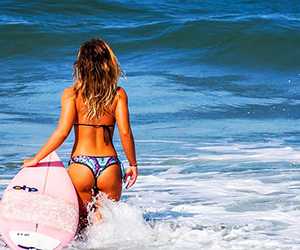 It seems like more people are not sure of what to wear to the beach than what to wear to the night club, dinner party, date, or a formal event.
Which is, kind of strange. And funny. Because at the beach you need only a few things:
• A bathing suit,
• Cute flip-flops,
• A beach dress (short, medium length or long, whatever you like), and
• A summer hat.
Plus, the sun umbrella, sunscreen lotion or spray, sunglasses, of course, and a huge beach towel.
That's it.
How many swimsuits to pack?
A common question asked, "How many swimsuits to pack?" or "How many swimsuits should I take on my Miami vacation?"
Most of the time, two swimsuits is enough - one to wear while the other is drying. Some people like to bring three swimsuits.
One-piece bathing suit or bikini?
It is better if all your bathing suits are the same style, one-piece bathing suit or bikini. After all, you want only one set of tan lines. Plus, when one area of your body has a tan, and another doesn't, you get a sunburn more easily.
The current trend in swimsuits: Retro style
The 1950s classic vintage style swimsuits are back, and women love it! You will see many vintage style swimming suits on a beach this year. Do you have to wear a retro style bathing suit just because it is trending now? No. Wear what looks good on you!
Neon bathing suits
Neon bathing suits, green or hot pink, are another interesting new trend that is emerging for the summer. I have to admit - it does look very refreshing!
Good on anyone swimsuits
If you are looking for a perfect swimsuit that looks good on anyone, check our selection from the Amazon store. After all, if it worked for thousands of other women, the chances are - it will work for you too. And the prices are right.
Plus size swimsuits
For plus size bathing suits, the brand UpOpBy may have something for you. They make interesting retro style one-piece swimsuits with tummy control.
What else
Bring a sunscreen spray 50+ SPF and Aloe Vera Gel, in case you get a sunburn. You can always buy it in any drug store in South Beach Miami. The only problem - like in most popular travel destinations, in Miami Beach these simple items will cost you three times more than in your home town or online.
Jessica Gale, hipstyleandvalue.com
---
Two Piece Swimsuit
Angerella Vintage Polka Dot High Waisted Bathing Suits. Comes in 22 different colors.
Tummy Control Swimsuit
Firpearl Tummy Control Slimming Swimsuit. Available in 25 different colors.
Two Piece Bathing Suit
JomeDesign Womens Two Piece Bathing Suits Tankini. Sizes S-XXXL.
One Piece Swimsuit
CUPSHE Vintage Lace Bathing Suit. Comes in 4 different colors.
Boho Bikini Set
COCOSHIP Retro Boho Flounce Falbala High Waist Bikini Set. Available in 20 different colors.
Beach Cover Up
HARHAY Beach Swimwear Cover up. Also, available in 14 other colors.
---
---
Beach Cover Up
Rainlover Swimwear Bikini Cover-ups. Available in many colors.
Beach Cover Up
GDKEY Chiffon Tassel Beach Cover up. Available in 11 other colors.
Beach Attire
LAPAYA Beach Dress. Many other colors are available.
Polka Dot Bathing Suit
Amourri Retro Vintage Polka Dot Underwire Swimsuit.
Red Off Shoulder Bikini
Tempt Me Two Piece Off Shoulder Bikini. Also, available in 18 other patterns and colors. #1 Amazon Bestseller.
Beach Dress
NERLEROLIAN Beach Dress. Flattering. Also, available in navy, pink and other colors.
Beach Attire: Romper
Dreamskull Spaghetti Strap Romper. Available in black, blue and other colors.
Patchwork Beach Dress
R.Vivimos Summer Dress. Patchwork. Short Beach Dress.
Summer Dress
OMZIN Flare Sleeve T-Shirt with Lace. Many colors.
Sweater
Exlura Off Shoulder Sweater. Also, available in white, red wine and other colors.
Neon Green Bathing Suit
Zeraca Neon Green Bikini Swimsuits. Available in many colors.
Beach Dress
Milumia Tribal Print Kimono Sleeve Summer Dress.
Beach Attire: Flip-flops
Qilunn Studded Bow Flip Flops.
Chiffon Swimsuit Cover Up
Yonala Summer Beach Wear / Cover up. Comes in 7 different colors.
Sundress
Viishow Summer Dress with Pockets. Comes in black, pink, and many other colors.
Beach Maxi Dress
LILBETTER Beach Crochet Backless Maxi Dress.
Round Straw Bag
Round Straw Bag. Natural.
Red Cotton Cap
KBETHOS Classic Cotton Cap. Adjustable. Polo Style. Offered in 30 different colors.
Lady Color Bracelet
Lady Color Bracelet ♥ Mothers Day Gifts. Adjustable Crystal Bracelet. Made with Swarovski Crystals. Gift Packaging.
Sundress
ETCYY Summer Floral Printed Sundress with Pockets.
Smart Watch
SXGINBT Smart Activity Monitor Watch. Waterproof Fitness Tracker for Swimming.
Comfort Sandals
Gold Pigeon Shoes GP Signature SNAP Lock Comfort Sandals. Many colors.
---
Still not sure what to wear to the beach? Need more inspirations? Then check out some of these similar articles:
Last updated on April 17, 2019.
---
Disclosure: Links to these items have been handpicked by our editorial team. We have affiliate relationship with many online stores, so in some cases, if you purchase an item here, we may get a small share of the revenue from your purchase.