What to wear to the beach
Believe it or not, but what to wear to the beach in Miami is the hottest topic among travelers.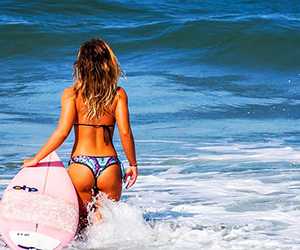 The truth is at the beach you need only a few things:
• A bathing suit,
• Cute flip-flops,
• A beach cover-up (short, medium-length or long, whatever you like), and
• A beach hat with 50+ SPF.
Plus, the sun umbrella, sunscreen lotion or spray, sunglasses, of course, and a large beach towel.
That's it.
How many swimsuits to pack?
A common question asked, "How many swimsuits to pack?" or "How many swimsuits should I take on my Miami vacation?"
Most of the time, two swimsuits are enough - a one to wear while the other is drying. Some people like to bring three swimsuits to their beach vacation.
One-piece bathing suit or bikini?
It is better if all your bathing suits are the same style, one-piece bathing suit or bikini. After all, you want only one set of tan lines. Plus, when one area of your body has a tan and another doesn't, you get a sunburn more easily.
CUPSHE Stripe Reversible Bandeau Top High Waisted Bikini.
CUPSHE Elegant One-Piece Swimsuit.
High-rise bikini
If you are on the shorter side, a high-rise bikini will make you look so much taller.
Blooming Jelly High Waisted Bikini Set. Many colors are available.
Crochet is everywhere
The beach area is a perfect place to wear your crochet clothing - bathing suits, beach pants, skirts, shorts, beach cover-ups, cropped tops, hats, or scarves.
Uqnaivs High Waist Bikini Set. Crochet.
Swimsuits Pants. Crochet with Mesh.
Wander Agio Beach Bikini Cover-ups.
Fashionazzle Lace Crochet Shorts.
Perfect for the beach: Rings
These acrylic rings are simple and affordable. You can wear these rings on every finger with any beach outfit.
AIDSOTOU Resin Rings. Acrylic.
---
Minimalist style swimsuit
This two-color swimsuit with mesh is simple and elegant and will work for all body types. Looking for a swimsuit that is good on anyone? Here it is. Available in sizes from S -XL.
One-Piece Sexy See Through Mesh Cutout Monokini by Tempt Me.
Criss cross bathing suits
Criss cross bathing suits are another exciting new trend that is emerging for the summer. I have to admit - it does look very refreshing!
Temptme Bandage Bikini Set.
RUUHEE Criss Cross Bathing Suit.
Ankle Bracelets
Adorable and chic, the "It" girl–approved trend, 18K gold plated ankle bracelet.
Barzel 18K Gold Plated Flat Marina Elephant Anklet.
Tropical prints
This year you will see many tropical print bathing suits. Some of them, especially ones with many ruffles, look like a gorgeous party dress, but it is still a bathing suit.
Tempt Me Two-Piece High Waisted Swimsuit.
Temp Me Two-Piece Off Shoulder Bikini.
Beach cover-ups
On a beach, the bathing suit cover-up or a sarong is a necessity. The cover-ups come in different styles and lengths. Which beach cover-up the right for you? Whatever makes you feel good.
Ekouaer Sarong Swimsuit Coverup for Women. Chiffon.
Three pieces bikini
The three pieces bikini is a thing now, and it looks like something that I would wear every day. Definitely not your typical bathing suit.
ZAFUL Ribbed Bandeau Bikini.
SOLY HUX 3 Piece Tie Dye Bikini.
SweatyRocks 3 Piece Swimsuit.
Scallop bikini
These two scalloped-edge swimsuits are super cute. Pair them with a long flowy beach skirt, statement necklace, and stackable rings.
SS Queen Classic Scallop Bikini. Sizes S- XL.
CUPSHE Tropical Print Scallop Top High Waisted Bikini. Sizes XS - XXL.
Cute & colorful flip flops
If you are going to the beach, you must have flip-flops.
uYES Beach Wedges Platform Massage Flip Flops.
Metallic bikini
Cute metallic bikini is the hottest new micro trend. For a more sexy look, pair metallic bikini with crochet pants or chiffon beach cover-up.
Gary Majdell Sport Liquid String Bikini.
Tinted lip oil
NOONI Appleberry Lip Oil. Vegan, Cruelty-free, Paraben-free.
Super sexy
RELLECIGA Sexy Keyhole Swimsuit.
Cozy sweatsuit sets
You can wear the sweatsuit sets everywhere - at the beach, walking around town, or at home. Style it with an oversized floppy hat, statement jewelry, and a small purse.
TECREW Sweatsuit Set with Pockets.
Uaneo Cotton Long Sleeve Sweatsuit. Available in many colors.
Meenew 2 Piece Sweatsuit. Many colors.
What else
Bring a sunscreen spray 50+ SPF and Aloe Vera Gel, in case you get a sunburn. You can always buy it in any drug store in South Beach Miami. The only problem - like in most popular travel destinations, in Miami Beach, these simple items will cost you three times more than in your home town or online.
Jessica Gale, hipstyleandvalue.com
---
Last updated on Oct. 8, 2021.
---
Disclosure: Links to these items have been handpicked by our editorial team. We have affiliate relationship with many online stores, so in some cases, if you purchase an item here, we may get a small share of the revenue from your purchase.