10 Cute Sweaters
Before I start, I have to admit - I love sweaters. I have the whole sweater collection - short sleeve, long sleeve, oversized, brown, red, green. They are my real lifesavers, especially during winter season. You can call them my uniform.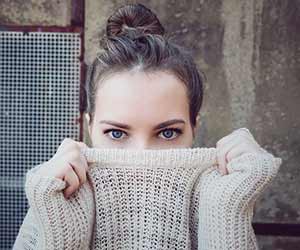 You can wear a sweater with just about anything - jeans, fashion pants or pattern leggings.
Where to Wear
You can wear a short sweater or a long cardigan everywhere - to a casual bar, dinner with friends, date, or while walking on the beach at night.
How to Wear a Sweater?
If you are going out, you can wear a bright solid color sweater with a black leather pencil skirt. Or, wear an orange color sheer shrug cardigan over a black bodycon dress.
If your sweater looks a little too boring, wear it with a bright color scarf or a leopard print beret. The printed brushed soft leggings from the VIV Collection will also look good with any plain looking sweater.
Casual Look or Going Out?
For a casual look wear a cardigan sweater with a basic T-shirt, jeans, and fashion sneakers, but when you are going out, button your cardigan up and balance out the look with a cute hair-clip and manageable dressy pumps. Scroll down to see many examples.
Color Trends
Right now the beige color is trending. You will see a lot of beige on the street plus all kinds of beige colors variations - nude, honey, chai, caramel, cocoa, mocha. We added a few beige color sweaters to our list.
What to Wear Under a Short Sweater?
I always wear a thin Thermasil camisole underneath of any sweater. The Thermasil camisoles made out of 100% silk, they are breathable and come in two colors - black and white.
Don't Forget Accessories
I love multicolor beaded stackable bracelets, and I wear them with every sweater I have. These bracelets are my signature accessory. What is your signature accessory? Stackable rings? Bright color scarfs? Heart shape earrings?
What Else
You can mix unexpected fabrics for a more distinctive look.
Jessica Gale, hipstyleandvalue.com
---
Dressy Sweater
ECOWISH Knitted Ball Dots Loose Winter Pullover. Also, available in Yellow, Burgundy, White, and other colors.
Sheer Shrug Cardigan
Back From Bali Sheer Shrug Cardigan. Lightweight Knit. Available in 26 different colors.
Striped Sweaters
Yacooh Striped Oversized Long Sleeve Cropped Sweater.
Strappy Sandals
Sam Edelman Ganesa Strappy Sandals. Also, available in Black.
Beige Sweater
Milumia Cropped Sweater. Available in many colors.
Color Block Crop Top
Angashion Crop Pullover.
Red Earrings
Crystal French Wire Dangle Drop Earrings. Come in 4 different colors.
Lightweight Accent Scarf
Ted and Jack - Solid Color Silk Accent Scarf. Comes in many colors.
---
---
Red Sweater
ECOWISH Short Sweaters Collection. Also, available in Black, Coffee, Gray, and Yellow.
Leggings
VIV Collection Popular Printed Brushed Soft Leggings. Comes in 40 different patterns.
Yellow Sweater
ZAFUL Loose Cropped Sweater. Available in many colors.
Pencil Skirt
LJYH Women's Desinger Leather Pencil Midi Skirt.
Shoulder Bag
Scarleton Shoulder Bag. Many colors.
Cream Grid Sweater
Chicwish Comfy Casual Long Sleeve Cream Grid Sweater.
Blue Earrings
Crystal French Wire Dangle Drop Earrings. Come in 4 different colors.
Asymmetric Sweater
Exlura Women's Off Shoulder Oversized Sweater. Available in many colors.
Sandals
CAMELSPORTS Women's Walking Sandals. Also, available in grey and navy blue.
Cardigan Sweater
Farktop Off The Shoulder Tie Front Knit Cardigan. Available in 10 other colors.
Fashion Sweater
PRETTYGARDEN Loose Drop Shoulder Lantern Sleeve Round Neck Fashion Sweater.
Thermasil Camisole
Thermasilk Pointelle Camisole made by Terramar. Available in Black and White.
Vintage Round Sunglasses
SUNGAIT Vintage Round Sunglasses for Women.
---
---
Disclosure: Links to these items have been handpicked by our editorial team. We have affiliate relationships with many stores, so in some cases, if you purchase an item here, we may get a small share of the revenue from your purchase.