What to Wear to a Bar
When going to a bar, you have to keep in mind two things: where the bar is located and at what time of a day you are going to a bar.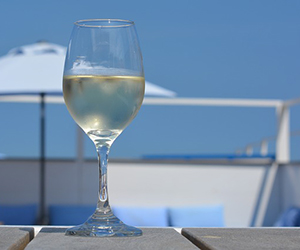 Bars by the Pool
Some bars are by the pool or just a few steps away from the the beach. In these bars you can wear your beach clothing.
Casual Style
If the bar is one block from the shoreline, you have to wear a casual clothes, even when is super hot outside; otherwise they won't serve you drinks or food.
At Night
At night everything changes. People get dressed up at night in South Beach Miami and bar outfits reflect this trend. I guess, "dress to impress" would be the right way to describe the outfits in the evening.
Exquisite Bars
If the bar is in the expensive hotel, like Loews, St. Moritz, Delano, or you are going to a rooftop bar, you are expected to wear a cocktail dress.
If in Doubt...
If you are going to a specific bar at the hotel and you are seriously in doubt of what to wear, call the hotel and ask about their dress code. They will help.
Bar Outfits: Colors
In Miami, bright colors look very good. If you want to meet new people, our recommendation - wear yellow. The yellow color is known as color of communication. If you want people to remember you, wear red. And if you like classics, wear a little black dress. It always works!
What Else
It is almost always hot in South Beach Miami. Even if the temperature drops at night, it is still warm. You are in a dropical climate and you need to wear something light and breathable.
---
Cocktail Dresses: Yellow, Red, Black
Meilun Women's Strapless Bandage Dress Cocktail Bodycon Dress. It comes in 10 different colors.
QIXING Women's Summer Dress. Cold Shoulder Tunic. Loose Dress With Pockets. Cocktail Dress. Comes in 26 different colors.
MOLERANI Women's Casual Plain Short Sleeve Dress. Simple T-Shirt Loose Dress. Comes in 12 different colors.
FANCYINN Women Sexy Spaghetti Strap Floral Print Casual Dress. Comes in 14 different colors.
Knit Tunic
Chvity Womens Waffle Knit Tunic. Plain Shirt. Also comes in white, black, and grey.
Cocktail Dresses: Blue, Purple
Fantaist Sleeveless Mini Party Dress. Halter Neck. Patchwork Lace. Comes in 7 different colors.
DREAGAL Women's Sleeveless Lace Patchwork Loose Casual Mini Chiffon Dress.
Kate Spade New York Earrings
Kate Spade New York Womens Shine On Flower Ear Jacket Earrings.
Bar Outfits: Top
Milumia Women's 3/4 Sleeve Side Split T-Shirt Blouse. Comes also in Navy and Beige.
Flats
VISCATA Rascassa Authentic and Original Flats Innersole Cushion Hand. Made in Spain. Comes in 11 colors.
Cardigan Sweater
NENONA V-Neck Button Down Cardigan Sweater. Soft.
T Shirt Dress
Levaca Women Summer Short Sleeve Casual T Shirt Dress. Comes in 8 different colors.
Shrug Cardigan
Back From Bali Womens Sheer Shrug Cardigan. Lightweight Knit. Comes in 26 different colors.
Baggy Shirt
UGET Casual Oversized Baggy Off-Shoulder Shirt. Comes in 15 different colors.
Hot Shorts
SweatyRocks Camouflage Yoga Hot Shorts. Come in 12 different patters.
Bar Outfits: Patterns
Hibluco Women's Sexy Off Shoulder Strapless Floral Print Mini Dress. Comes in 4 colors.
Boho Romper
AELSON Women's Boho V Neck Print Romper. Long Flare Sleeves. Comes in 6 different colors.
---
Bar Outfits: Sweatshirt
Risesun Sweatshirt.
HAOMEILI Casual Dress
HAOMEILI Cold Shoulder with Pockets Casual Swing T-Shirt Dress. Many colors.
Shoulder Bag
Pu Leather Shoulder Bag with Bee.
Lace Patchwork Blouse
BLENCOT Womens 3/4 Bell Sleeve V Neck Lace Patchwork Blouse. Comes in Black, Purple and other colors.
Dressy Gold Shoes
Mugara Flats. Come in 9 different colors.
Leggings
VIV Collection Popular Printed Brushed Soft Leggings. Comes in 40 different patterns.
Casual T Shirt Dress
LILBETTER Women's Casual T-Shirt Dress.
---
Need more inspirations for bar outfits? Check our articles:
Last updated on Oct 12, 2018
---
---
At HipStyleandValue, we believe in transparency. If you purchase something using our referral link, then we will get a small commission at no additional cost to you.