What to wear to a bar
When going to a bar, you have to keep in mind two things: where the bar is located and at what time of a day you are going to a bar.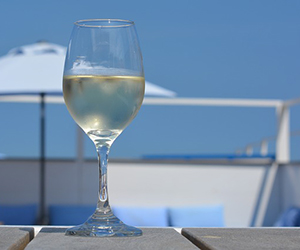 Bars by the pool
Some bars are by the pool or just a few steps away from the the beach. In these bars you can wear your beach clothing.
Casual style
If the bar is one block from the shoreline, you have to wear casual clothes, even when is super hot outside; otherwise they won't serve you drinks or food.
At night
At night everything changes. People get dressed up at night in South Beach Miami and bar outfits reflect this trend. I guess, "dress to impress" would be the right way to describe the outfits in the evening.
Exquisite bars
If the bar is in the expensive hotel, like Loews, St. Moritz, Delano, or you are going to a rooftop bar, you are expected to wear a cocktail dress.
If in doubt...
If you are going to a specific bar at the hotel and you are seriously in doubt of what to wear, call the hotel and ask about their dress code. They will help.
Bar outfits: Colors
In Miami, bright colors look very good. If you want to meet new people, our recommendation - wear yellow. The yellow color is known as the color of communication. If you want people to remember you, wear red. And if you like classics, wear a little black dress. It always works!
What else
It is almost always hot in South Beach Miami. Even if the temperature drops at night, it is still warm. You are in a tropical climate and you need to wear something light and breathable.
---
Cocktail Dresses: Yellow, Black, Blue, and Patterns
Meilun Women's Strapless Bandage Dress Cocktail Bodycon Dress. Comes in 10 different colors. Price: $28.00.
MOLERANI Casual Plain Short Sleeve Dress. Comes in 26 different colors. Price: $18.99.
Milumia Boho Button Up Split Floral Print Dress. Price: $24.99.
FFLMYUHUL I U Women Floral Print Mini Dress. Price: $20.99.
Miami Glow Eau De Toilette
Miami Glow By Jennifer Lopez For Women. Eau De Toilette Spray 3.4 Ounces. Price: $20.36.
Blue Cocktail Dress
BELONGSCI Bell Sleeve Shift Mini Dress. Comes in 7 different colors.
Price: $26.99.
Light Blue Dress with Flowers
KORSIS Summer Swing Dress with Pockets. Price: $18.84.
---
---
Heart Shape Earrings
Sterling Silver Open Heart Threader Drop Earrings. Rose Gold. Price: $19.00.
Slip-On Loafers
Naturalizer Emiline Slip-On Loafers. Price: $62.99.
Leather Wrap Bracelet
SPUNKYsoul Dazzling Handmade Leather Wrap Bracelet. Price: $16.99.
Faux Fur Cardigan
Inorin Womens Open Front Cardigan Faux Fur. Also, available in Black and Beige. Price: $30.98.
Shrug Cardigan
Back From Bali Womens Sheer Shrug Cardigan. Lightweight Knit. Comes in 26 different colors. Price: $24.95.
Basic Jean Short
Gloria Vanderbilt Basic Jean Short. Regular and Petite sizes. Price: $23.11.
Coral Color Dress
iconic luxe Midi Dress with Pockets. Also available in other colors. Price: $15.99.
Red Floral Dress
FANCYINN Womens Floral Dress.
Price: $21.99.
Cream Grid Sweater
Chicwish Comfy Casual Long Sleeve Cream Grid Sweater.
Price: $49.90.
Bar Outfits: Knit Sweater
Yacooh Womens Cropped Long Sleeve Knit Sweater. Price: $25.88.
Bodycon Dress
BTFBM Summer Casual Bodycon Dress. Available in many colors. Price: $20.99.
Messenger Bag
Hiigoo Printing Canvas Shoulder Bag Retro Style. Price: $19.98.
Bar Outfits: Casual Top
Minthunter Long Sleeve Color Block Casual Top. Price: $19.98.
Leggings
VIV Collection Popular Printed Brushed Soft Leggings. Available in 40 different patterns. Price: $11.99.
Leggings
Chikool High Waist Yoga Pants with Mesh. Price: $19.99.
Shrug Cardigan in Blue
Sheer Shrug Cardigan. Also, available in 15 other colors.
Price: $26.95.
---
Need more inspirations for bar outfits? Check out some of these similar articles:
Last updated on June 19, 2019.
Disclosure: Links to these items have been handpicked by our editorial team. We have affiliate relationship with many online stores, so in some cases, if you purchase an item here, we may get a small share of the revenue from your purchase.