What to wear to a bar
When going to a bar, you have to keep in mind two things: where the bar is located and what time of day you are going to a bar.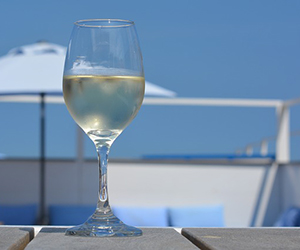 Bars by the pool
Some bars are by the pool or just a few steps away from the beach. In these bars, you can wear your beach clothing.
Casual style
If the bar is one block from the shoreline, you have to wear casual clothes, even when it's super hot outside; otherwise, they won't serve you drinks or food.
At night
At night everything changes. People get dressed up at night in South Beach Miami, and you will find that people are dressed nicely in any bar. "Dress to impress" would be the right way to describe the evening's clothing style.
Exquisite bars
If the bar is in an expensive hotel, like Loews, St. Moritz, Delano, or you are going to a rooftop bar, wear something elegant and semi-formal.
If in doubt
If you are going to a specific bar at the hotel and you are seriously in doubt of what to wear, call the hotel and ask about their dress code. They will help.
Bar outfits: Colors
Always wear bright colors in South Beach Miami. If you want to meet new people, our recommendation - wear yellow. The yellow color is known as the color of communicators. If you want people to remember you, wear red. And if you like classics, wear black. It always works!
Statement T-Shirts
Funny statement T-shirts are great conversation starters and perfect for any casual bar. We wrote the entire article on why and when to wear statement T-shirts.
What else
It is almost always hot in South Beach Miami. Even if the temperature drops at night, it is still warm. You are in a tropical climate, and you need to wear something light and breathable.
Jessica Gale, hipstyleandvalue.com
---
Cocktail Dresses: Patterns, Yellow, Black, Blue
Printed Chiffon Back Tie Halter Shift Dress. ($89.00.)
Meilun Women's Strapless Bandage Dress Cocktail Bodycon Dress. Comes in 10 different colors. ($28.00.)
MOLERANI Casual Plain Short Sleeve Dress. Comes in 26 different colors. ($18.99.)
Yanekop Fuzzy Fleece Pullover Plaid Print Sherpa Sweatshirt With Pockets ($27.99.)
Sexy Dress
Romwe Sexy Layered Dress. ($32.99.)
---
---
Casual Dress
MITILLY Summer Sleeveless V Neck Casual Dress ($27.99.)
Flower Earrings
D.Rosse 2 Pairs Chic Boho Flower Earrings. ($9.98.)
Leather Floral Print Flats
Ablanczoom Comfortable Leather Floral Print Flats. ($29.99.)
FANCY SHINY Waterproof Rope Anklets. ($12.99.)
Printed Border Skirt
Max Studio Printed Poly Panel Border Skirt. Sizes S - L.($21.99.)
Casual Dress
Daily Ritual Jersey Short-Sleeve T-Shirt Dress. ($18.90.)
T -Shirt Dress with Flowers
MEROKEETY Summer Striped Short Sleeve T Shirt Dress. ($35.99.)
Leather Wrap
The Drop Faux Leather Wrap - Midi Skirt ($54.90.)
Cream Grid Sweater
Chicwish Comfy Casual Long Sleeve Cream Grid Sweater.
($49.90.)
Bar Outfits: Knit Sweater
Yacooh Womens Cropped Long Sleeve Knit Sweater. ($25.88.)
Knit Cardigan
Exlura V Neck Open Front Button Down Knit Cardigan.
Statement T Shirt
Miami Funny T-Shirt. Sizes S - 3XL.
Thou Shall Not Try Me Women's T Shirt.
Flower Earrings
Flower Earrings. ($10.99.)
Adjustable Flower Ring
Alphm Rose Flower Ring. S925 Sterling Silver. ($19.99.)
Leggings
VIV Collection Popular Printed Brushed Soft Leggings. Available in 40 different patterns. ($11.99.)
Faux Fur Cardigan
Casual Double Fuzzy Sweatshirt. Faux Fleece. S-XXL ($29.99.)
---
Need more inspirations for bar outfits? Check out some of these similar articles:
Last updated on Nov. 8, 2021.
Disclosure: Links to these items have been handpicked by our editorial team. We have affiliate relationship with many online stores, so in some cases, if you purchase an item here, we may get a small share of the revenue from your purchase.