Unique outfits: Tie-dye
The tie-dyed clothing is trending this year!
You will see many cheerful and one-of-a-kind tie-dye color combinations on city streets or at the beach.
The vibrant tie-dye t-shirts, hoodies, tunics, bags, socks, dresses, and even flip-flops are perfect for summer, especially when you are at the beach area.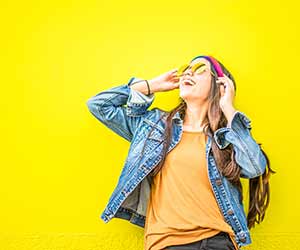 Where to wear tie-dye clothing?
You can wear it everywhere - beach, gym, pool party, music festival, walking around town, or on a casual day at work.
How to wear tie-dye tops?
The tie-dye t-shirt or hoodie will look very good with blue jeans or black casual cotton pants. You can also pair a tie-dye top with a white or light beige color skirt. Beige is a trendy color now, so watch for beige, tan, or natural colors.
What kind of shoes to wear with a tie-dye dress?
It depends on the occasion. If you are planning to walk around town, wear fashionable sneakers or comfortable sports sandals. If you are going to the party, add to your outfit sleek, bright solid color ankle strap heels for a polished vibe.
Casual outfit or not?
Some tie-dye tunics look so elegant that it is not a casual outfit or beachwear any more. For a more exciting twist, wear your tie-dye dress with a summer hat or round straw bag, finish your look with statement jewelry, and you are good to go.
Micro-trend jewelry
The micro trends don't last, but it is always fun to follow them. Flower jewelry is a new micro-trend 2021, and they look perfect with tie-dye clothing.
Tie-dye as beachwear
To the beach, you can wear a tie-dye t-shirt or a hoodie with denim or white shorts. And if you are into tie-dye, there are tie-dye jewelry, beach bags, and exercise clothing.
Jessica Gale, hipstyleandvalue.com
---
Two Piece Set
Dearlovers Summer Tie-Dye Two Piece Short Set.
Summer Boho Dress
Sakkas Butterfly Tie Dye Mid Length Dress. Comes in multiple colors.
---
Tie-Dye Dress
A LEELA One Size Beach Dress. Comes in many different colors.
Cool T-Shirt
Milumia Tie Dye Oversized T-Shirt.
Lava Bracelet
Hamoery 8mm Lava Bracelet. Aromatherapy Essential Oil Diffuser Bracelet. Yoga Beads.
Mini Dress
MAXIMGR Summer Sleeveless Round Neck Mini Dress. Comes in red, green and other colors.
Long Sleeve Hoodie
AlvaQ Long Sleeve Tie Dye Printed Hoodie.
Casual Sweatshirt
AlvaQ Crewneck Casual Long Sleeve Sweatshirt.
Two Piece Set Pajamas
Elapsy Long Sleeve Tie Dye Short Pajamas Set.
Two Piece Swimsuits
ZAFUL Women's Leaf Print Lace Up Ruched High Waisted Swimsuit.
Long Skirt
Miessial Boho Long Skirt. Available in many colors.
Two Piece Set
Bdcoco Long Sleeve Top and Pants.
Flower Earrings
Metal Poppy Flower Dangle Earrings.
4 Pairs Flower Earrings Dual Layer.
Hand Painted Dress
Riviera Sun Tie-Dye Dress for Summer. Hand Painted Design. Comes in many colors.
Embroidered Dress
Sakkas Nora Sleeveless Embroidered Dress.
Tie-Dye Sneakers
Blowfish Malibu Women's Play Sneakers.
---
---
Disclosure: Links to these items have been handpicked by our editorial team. We have affiliate relationships with many stores, so in some cases, if you purchase an item here, we may get a small share of the revenue from your purchase.