Skincare routine for hot and humid climate, like Miami
South Beach Miami is known for its sweltering and humid summers, with sometimes up to 90°F / 32°C and 85% humidity. Even during fall, winter, or spring, when the weather can drop up to 50°F / 10°C, the humidity level still can be between 60 - 75%. If you travel from another part of the world and you are used to a different climate, you may need to buy skin products and follow the skincare routine recommended for hot and humid Miami weather.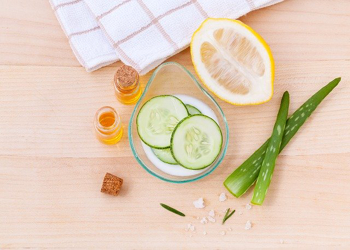 At the beach
When at the beach, you always use a skin-protecting spray or lotion with SPF 30 and higher. I prefer the spays because it spreads more evenly on the skin, but some people like lotions.
Your skin and humidity
Is humidity good for the skin? In general, yes. But, when humidity is too high or over 50%, it may cause constant sweating. The sweating can irritate your skin and make the skin itchy. Then you need to use skin products to cool your skin.
Here are a few simple tips to take care of your face, body, and lips in a hot and humid climate.
For the face
Step #1. Start and end every day with facial cleanser.
Vitamin C Facial Cleanser - Anti Aging, Breakout & Blemish, Wrinkle Reducing, Exfoliating Gel Face Wash. 6.7 oz. ($19.97.)
CeraVe Hydrating Face Wash for Dry Skin.Fragrance-Free. 16 Ounce. ($13.91.)
Ultra Facial Cleanser 2.5 Ounce. (15.99.)
Step #2. During the day, use an oil-free face cream & moisturizer with at least SPF 30 to protect against UV exposure from the sun, a common threat in a hot and humid climate.
Mario Badescu Oil Free Face Moisturizer SPF 30, 2 Fl Oz. ($28.00.)
---
Dandelion Sun, Anti-Aging Face Moisturizer with Broad Spectrum SPF 30 Facial Sunscreen. 1.7 Oz. ($39.99.)
Waso by Shiseido Color-Smart Day Face Moisturizer Oil-Free SPF 30 50ml.($28.81.)
Step #3. At night, use a lightweight, water-based face cream to seal in moisture and help keep your skin hydrated while you sleep.
Face Cream & Moisturizer with Collagen Peptides by Olay Regenerist Micro-Sculpting Cream 1.7 oz, 2 Month Supply. ($21.63.)
Anti Aging Retinol Face Cream & Moisturizer with 2.5% Retinol and Hyaluronic Acid. ($26.97.)
La Roche-Posay Toleriane Double Repair Face Cream & Moisturizer, Oil-Free Face Cream with Niacinamide. ($19.99.)
Body lotion advice for hot and humid climate
Not all body lotion products are made equal. For the hot and humid climate, you need a body lotion that can cool your skin, especially after spending the day at the beach and after the shower. Usually, the body lotion with aloe vera component or pure aloe vera body lotion works better than anything else.
Andalou Naturals Aloe Mint Cooling Body Lotion 8 Oz. ($7.99.)
OLAY Quench Cooling White Strawberry & Mint Body Lotion. 8.4 Oz. (Pack of 2). ($9.98.)
Jack Black Cool Moisture Body Lotion with Aloe Vera, 16 Fl Oz.($30.00.)
Lip therapy
For hot and humid climate, you need a lip balm with SPF25 and higher. Consider these:
Jack Black Intense Therapy Lip Balm SPF 25, Natural Mint & Shea Butter. ($8.00.)
Supergoop! Lip Balm with Acai Fusion and Shea Butter. SPF 30. ($9.50.)
For your feet
You may need a cooling spray for your feet or eucalyptus oil as well.
The Body Shop Peppermint Cooling Foot Spray. ($9.95.)
If you get a sunburn
The best remedy for sunburn is aloe vera lotion.
Burt's Bees Aloe & Coconut Oil After Sun Soother, 6 Ounces. ($7.68.)
Is humidity good for hair?
It depends who you ask. If you are like me and born with curly hair, then yes, humidity is excellent for the hair, because it creates more curls than any expensive hair product.
---
So, here you have it - skincare routine for your face, body, lips - for the hot and humid climate.
Jessica Gale, hipstyleandvalue.com
---
---
---
Disclosure: Links to these items have been handpicked by our editorial team. We have affiliate relationships with many stores, so in some cases, if you purchase an item here, we may get a small share of the revenue from your purchase.