Colors & Fashion
In Miami, bright color clothes look very good. So, if you are planning your trip to Miami, pack something... super bright.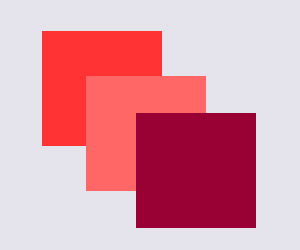 #ILoveTrends
Choosing the right color for your outfit is simple - and not so simple. The color trends are constantly changing and every year there is a new trend and the new color of the year. These trends affect not only clothing. Take makeup, for example. Famous brands change their makeup pallet every year.
Art & Science of Colors
For those who may not know, there is The Pantone Color Institute who forecasts color trends and top 12 colors for men's and women's fashion. They also announce every year the Color for the Year.
There is an art and a science behind colors. But, if you want to make it really simple and stay with the latest fashion trends, the main color for the year 2018 is PURPLE. (In 2017 the main color was GREEN and in 2016 it was DUST BLUE)
Mix and Match
Keep in mind, if you start wearing everything only purple, it will look kind of boring, but you can always mix and match. Silver, white and floral prints (with a touch of purple) would be a good color combination.
New Colors Are Coming...
We are still in the middle of 2018, but trend forecasters are already announced the color that will define 2019. This color in rich teal. So, be prepared!
Party Dress: PURPLE
Sidefeel Women Off Shoulder Sleeve High Low Skater Dress. 95% Polyester, 5% Spandex. Many colors.
Versace Purple Watch
Versace Women's VFH140014 Venus Analog Display Quartz Purple Watch. Water resistant to 99 feet (30 M): withstands rain and splashes of water, but not showering or submersion.
Dressy Shoes: Purple
ElegantPark Purple Party Shoes.
KISSPAT Bracelet
KISSPAT Natural Gemstone Bead Wrap Bracelet. Crystal Chakra Stone. Natural Amethyst.
Purple Skirt
DRESSTELLS Knee Length Skirt. Evening Party Formal Skirt.
Clutch
Nodykka Women Evening Envelope Rhinestone Frosted Handbag Party Clutch or Purse.
Men's Skinny Pants
Victorious Men's Skinny Fit Color Stretch. Cotton and Spandex. They come in 28 different colors.
Hashtag T-Shirt: LoveCamp
100 Cotton. Lightweight. Great gift to anyone. Color: purple.
Purple Shirt
OUGES Three-Quarter Sleeves Hollowed Out Shoulder Casual Shirt Top. Comes in 10 different colors.
---
---
Purple Metallic Skirt
Delicate Illusions Metallic Skirt. Dance or Clubbing Skirt.
Maxi Dress
from Amazon
Afibi Off-Shoulder Long Chiffon Maxi Dress. COmes in many other colors.
Purple Shoes
ElegantPark Rhinestones Comfort Flats.
Michael Kors Bracelet
Michael Kors Heritage Heart adjustable bracelet. Polished rose gold-tone heart charm with pavé crystal halo.
Simlu Purple Cardigun
Women's Open Drape Cardigan Regular and Plus Size Cardigan Sweater Long Sleeves - USA. 95% rayon, 5% spandex.
Last updated on Sept. 12, 2018
---