The color of the year 2019
Choosing the primary color for your outfit may only look like a simple task, but it is not. And this is when the Color Of The Year comes into play.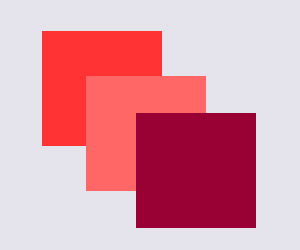 When in doubt what to wear to the event, dinner party, date, or any social gathering, ask yourself, "What is the color that is dominating in fashion this year?" Let it be your guide and inspiration.
The art & science of colors
For those who may not know, The Pantone Color Institute in the U.S. forecasts the new color trends for men's and women's fashion. They also announce the Color Of The Year. This color is not a random number. It is part of their fashion trends report. There are an art and science behind fashion colors.
Officially, it is living coral
In 2019, the Color Of The Year is, basically, living coral with many shades of what I would call - red. And I already love it! Why? Because people always remember the girl in red!
(By the way, in 2018 the Color Of The Year was purple, in 2017 it was green, and in 2016 - dust blue).
Main color vs. other colors
In any outfit, there is one main color and supporting colors. If the main color of your outfit is red, then the supporting colors (your shoes, bags, sweaters, hats) could be black, gold, leopard prints, or, maybe, pink. If you choose bright coral as your primary color, it will look good with tan, beige, gray, or, perhaps, white.
Red and black
Need more style suggestions? Try to wear everything black, top to bottom, with red color pumps or red fashion sneakers.
Beach attire
Don't know what color of bathing suit to buy? Look for something with the elements of red or coral. Or bring with you a bright red towel to the beach. People will notice you.
Let's look at how fashion designers incorporate red in their designs for 2019.
Jessica Gale, hipstyleandvalue.com
---
Pullover: Coral
HZSONNE Boho Batwing Ruffle Hem Loose Fit Crochet Ripped Sweater.
Party Dress: Red
Erosebridal Party Gowns. Available in 5 other colors.
Stiletto Heel Shoes: Gold
DREAM PAIRS Classic. Many colors.
Skirt: Red
Rekucci Wide Waist Flared Flippy Skirt. Also, available in 15 other colors.
Dressy Shoes: BLACK
J. Adams Ankle Strap Kitten Heel. Available in many colors.
Short Sweater: Red
ECOWISH Short Sweaters Collection. Available in many colors.
Night Out Bodycon Dress
Mizoci Cocktail Party Dress. Sexy Club Dress. Available in different colors.
Summer Dress
Riviera Sun Fringe Summer Dress.
Three Wrap Bracelet
KELITCH 3 Wrap Bracelet Pink Agate Beads.
Leggings
VIV Collection Popular Printed Brushed Soft Leggings. Comes in 40 different patterns.
Mini A Line Skirt: Black
Escalier PU Leather Mini A Line Skirt.
Pullover: Red
Simplee Casual Pullover.
Party Dress: Red
Romwe Stretchy A Line Swing Party Dress
Party Dress: Coral
Lamilus Party Dress.
Knit Cardigan: Coral
OgLuxe Long Sleeve Cable Knit Chunky Cardigan with Pockets. Many colors.
Cotton Jacket: Coral
Levi's Women's Parachute Cotton Military Jacket.
Summer Sandals
CLARKS Arla Primrose Sandals.
Red Beed Bracelet
3 Row Dyed Red Natural Coral Round Beads Bracelet.
Crossbody Bag
Kate Spade New York Leather Cameron Crossbody Handbag.
Chiffon Cardigan
INFITTY Floral Loose Chiffon Kimono Open Cardigan. Many colors.
Cute Coral Dress
Sakkas Summer Casual Light Dress with Tropical Print - Coral.
Dressy Shoes: Silver
IDIFU Sexy Pendant Pointed Toe Ankle Strap Kitten Heels Pumps.
Coral Color Skirt
Verdusa Waist Knot Leopard Print Wrap Split Skirt. Comes in many other colors.
Maxi Skirt: White
GIKING Retro Maxi Chiffon Long Skirt. Also, available in Black, Burgundy, Gray, and Blue.
Multicolor Earrings
EVER FAITH Cluster Dangle Earrings.
---
Need more style recommendations? Check out our similar articles:
Last updated on Nov. 1, 2019.
---
Disclosure: Links to these items have been handpicked by our editorial team. We have affiliate relationships with many stores, so in some cases, if you purchase an item here, we may get a small share of the revenue from your purchase.