What to Wear in South Beach Miami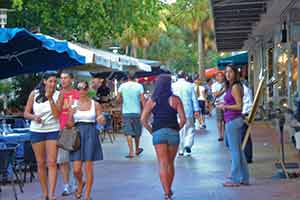 South Beach Miami Packing List
OK, you purchased your airline tickets, made a hotel reservation, and you are ready to start packing. What to wear in South Beach Miami? What to pack for a trip and what to leave at home?
Especially now, when airlines have so many luggage and weight restrictions, you want to pack only the right clothes in your suitcase (unless you don't mind paying the airlines extra!)
Let's look at how people spend time in South Beach Miami.
Early Morning. There is nothing better than a run (or brisk walk) before breakfast before the sun gets too hot. There are miles of boardwalk in South Beach Miami along the hotel side of the beach.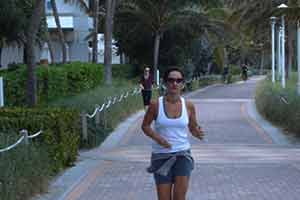 Most likely you would want to do it too. Don't forget to bring your sneakers and exercise clothes.
---
---
After Breakfast. This is beach time for most people on vacation in South Beach Miami; pack your swimsuit, suntan lotion, and sunglasses. And don't forget a hat! It can be very humid in South Beach Miami.
In general, synthetics or half synthetics/half cotton are better for the sea climate than clothes made of 100% cotton. Cotton observes moisture. It doesn't feel good and doesn't look good either.
What to wear after 11 A.M.? The chances are you will be hiding from the sun at the nearest Starbucks or by the swimming pool until 4 pm.
Dinner Time. People dress for dinner in South Beach Miami. Whether its dinner at the Delano Hotel or gourmet pizza on Lincoln Road, whether you like to wear hip style clothes or prefer a very conservative look, you need to be dressed up for dinner.
Luxury hotels have a dress code at dinner time. Besides, people in South Beach like to go for drinks after dinner and many hotels don't allow people in beach clothes in a restaurant.
At Night. Anything funky and crazy goes at night. Be creative! South Beach Miami is a partying town that never sleeps.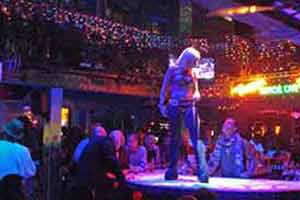 You want to get noticed in a crowd. You want to get noticed in a crowd. And you want to feel comfortable in your clothes - it is hot and humid in South Beach even at night. What to wear to a nightclub? More...
Miami Colors. Everyone wants to know what color to wear. We recommend wearing bright colors. Somehow they look very good in South Beach.
If you can't figure out which color is the best for you or simply don't like bright colors, you can always wear black or, perhaps brown.
And if you forgot to bring something, don't worry. There are tons of stores around. After all, the trip to South Beach Miami is about having fun.
But the most important - enjoy the beach, the sun and the nightlife. All your worries about what to wear can be left at home!
We hope this article provided you with many ideas about what to wear in South Beach Miami. You may also want to check our articles Casual Chic in Miami, Finding the Right Shoes, and Party Dresses
Jessica Gale, hipstyleandvalue.com
---
---