T-shirt dresses and day outfits
Women love wearing T-shirt dresses because they are Throw-On-and-Go outfits for summer. The T-shirt dresses are versatile and comfortable, and as a day outfit, the cute T-shirt dress may be your best option.
To see and read about my tips and shop each one, keep scrolling.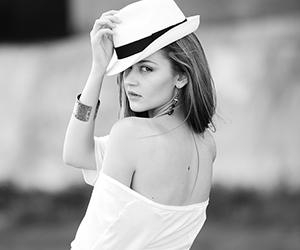 Where to wear a T-shirt dress?
You can wear a T-shirt dress to the beach during the day and to the bar at night. Just change the color from white or any light color during the day to black or dark color - burgundy, navy or black - at night, and change the shoes from flip-flops to manageable pumps in the evening, and you are good to go.
What to wear with a T-shirt dress
You can pair your T-shirt dress with practically anything - a cardigan, sheer shrug, a corduroy jacket. A leather motorcycle jacket will also look good with a T-shirt dress.
Wear a canvas shoulder bag or a fashion backpack during the day and a cute, unique handbag when going out.
Acrylic Earrings
The colorful acrylic earrings are in this year. Acrylic earrings are light, very inexpensive, come in many shapes - arcs, drops, traditional hoops - and look fantastic with any casual summer outfit.
What color nail polish to wear with a T-shirt dress?
With a T-shirt dress, you can wear nail polish of any crazy color - hot pink, army green, or vibrant yellow. Beige nails with a pop of metallic, or bright neon color on the tips will add a cute unique touch to the plain T-shirt dress.
Need more ideas? Try rainbow color nails! Painting every nail a different color is the hottest spring nail trend and is easy to recreate yourself.
Where to buy a T-shirt dress in Miami Beach?
There are tons of stores in South Beach Miami where you can buy a cute T-shirt dress. The world's most famous fashion designers and major brands have their presence on Lincoln Road. The only problem - like in any popular travel destination, everything is super expensive. When I travel to South Beach, I bring with me everything that I may need and spend most of my day on a beach or socializing with friends.
Jessica Gale, hipstyleandvalue.com
---
Polka Dot T-Shirt Dress
MITILLY V Neck Ruffle Polka Dot T-Shirt Dress with Pockets.
Purple Gray T-Shirt Dress
AUSELILY T-Shirt Dress with Pockets. Comes in multiple colors.
Glitter Sneakers
Forever Link Remy-18 Glitter Sneakers. Also, available in dusty rose, black and many other colors.
Summer Dress
Milumia Summer Dress. Available in 8 different colors.
---
---
Lightweight Accent Scarf
Ted and Jack - Silk Ombre Lightweight Accent Scarf. Comes in many colors.
T-Shirt Dress with Lace
Halife T-Shirt Dress with Lace Hem. Also, available in many colors.
Black T-Shirt Dress
Haola Women Loose T-Shirt Dress. It comes in 20 different colors.
Denim Shorts
Sidefeel Denim Ripped Shorts.
White T-Shirt Dress
TheMogan Loose T-Shirt Dress It comes in 45 different colors.
Maxi Dress
OURS Ethnic Style Floral Print Tank Dress.
Cropped Sweater
DEZZAL Cropped Sweater. Amazon Choice Award.
Messenger Bag
Hiigoo Printing Canvas Shoulder Bag Retro Style.
Blue and White T-Shirt Dress
YOUBENGA 3/4 Sleeve Loose Cotton T-Shirt Dress.
Acrylic Earrings
Jstyle 6 Pairs Acrylic Hoop Earrings.
Sandals
CAMELSPORTS Women's Walking Sandals. Also, available in grey and navy blue.
Casual T-Shirt Dress
Levaca Casual Midi Dress. Available in purple, wine and other colors.
Statement Bracelet
RIAH FASHION Multi Color Stretch Beaded Stackable Bracelets.
Bohemian Print
SimpleFun Bohemian Print T-Shirt Dress. Comes in 14 different colors.
Casual Skort
RBX Active Golf/Tennis or Casual Skort. Also, available in black.
---
---
Disclosure: Links to these items have been handpicked by our editorial team. We have affiliate relationships with many stores, so in some cases, if you purchase an item here, we may get a small share of the revenue from your purchase.