Casual day outfits: T-shirt dresses for summer
The most effortless casual outfit to wear in warm weather is a T-shirt dress. Women love wearing T-shirt dresses for a reason - it is a Throw-On-and-Go outfit during summer.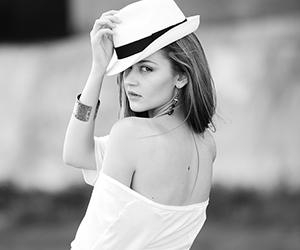 Where to wear a T-shirt dress?
You can wear a T-shirt dress for the beach during the day and to the bar at night. Just change the color from white, pistachio, or any light color during the day to the dark color - burgundy, navy, or black - at night, change the shoes from flip-flops to manageable pumps, and you are good to go.
Haola Loose Casual T-Shirt Dress. Comes in 20 different colors.
Hestenve Short Sleeve V Neck Pleated Solid Color Casual Dress. S - XL.
HiMONE T-Shirt Dress. S - XL.
What to wear with a T-shirt dress
You can pair your T-shirt dress with practically anything - a cardigan, sheer shrug, a denim jacket.
Hollywood Star Fashion Basic Button Down Denim Jacket. Sizes S - XXXL.
Tommy Hilfiger Stretch White Denim Jacket.
Wear a canvas shoulder bag or a fashion backpack during the day and a cute, unique handbag when going out.
YALUXE Soft Lambskin Leather Multicolor Shoulder Bag with Tassel Fringe.
Beatfull Fashion Handbag with Bee.
What shoes to wear with a T-shirt dress?
Wear sport sandals, flats, or fashion sneakers during the day and dressy pumps at night.
Bernie Mev Braided Catwalk Flats.
---
adidas VS Advantage Clean Shoes.
Summer Casual Dress
MOLERANI Comfy Swing Tunic Short Sleeve Solid Black T-Shirt Dress.
MOPOOGOSS Casual Tunic Dress. Sizes S - XL.
Nail color that goes with a casual outfit
With a day outfit, you can wear nail polish of any crazy color - hot pink, army green, or vibrant yellow. Beige nails with a pop of metallic or bright neon color on the tips will add a unique touch to the plain T-shirt dress.
Need more ideas? Try rainbow color nails! Painting every nail a different color is the hottest latest nail trend, and it is easy to recreate yourself.
Casual Shirt
FARYSAYS Lace Crochet V Neck Bell Sleeve Button Down Casual Shirt.
White T-Shirt Dress
TheMogan Loose T-Shirt Dress. Available in 45 different colors.
Short Sleeve Casual Top
FARYSAYS Boho Embroidered Top. Sizes S - XXL.
Micro Trend: Collared Dresses
Currently, the new micro trend is contrast collar dresses. Contrast collars make a simple dress look sophisticated and elegant. You will see cute small and large contrast collars on short, midi, maxi dresses, on solid color dresses (black, red, etcc.) and patterned dresses.
These micro-trends come and go; they don't last, but the micro-trends is always fun to follow because it brings change, and change is what makes everyday outfits so unique and exciting.
Collared Dresses
OKLICH Elegant Plaid Collar Short Sleeve. Many colors.
Allegra K Collar Polka Dot Dress.
Acrylic earrings
The colorful acrylic earrings are in this year. Acrylic earrings are light, very inexpensive, come in many shapes - arcs, drops, traditional hoops - and look adorable with any casual outfit.
36 Pairs Fashion Tassel Earrings Bohemian style. Gift for her.
Statement Bracelet
RIAH FASHION Multi Color Stretch Beaded Stackable Bracelets.
Statement T-Shirt
BLACKMYTH Graphic T-Shirt.
Blessed Beyong Measure Tee.
Purple Mini Dress
ALLY-MAGIC Tunic Casual T-Shirt Dress. Many colors.
Funny T-Shirt
Miami Funny T-Shirt. Sizes S - 3XL.
Skagen Connected Stainless Steel and Silicone Touchscreen Smartwatch.
Messenger Bag
SNUG STAR Multicolor Messenger Bag
Where to buy a day outfit in Miami Beach?
There are tons of stores in South Beach Miami, where you can buy a cute T-shirt dress or any other casual outfit. There is ZARA store, Marshalls, Ross. The world's most famous fashion designers and major brands have their presence on Lincoln Road. The only problem - like in any popular travel destination, everything is super expensive. When I travel to South Beach, I bring with me everything that I may need and spend most of my day on a beach or socializing with friends.
Jessica Gale, hipstyleandvalue.com
---
---
Disclosure: Links to these items have been handpicked by our editorial team. We have affiliate relationships with many stores, so in some cases, if you purchase an item here, we may get a small share of the revenue from your purchase.