Best time to visit:
Advice for budget travelers
Everyone wants to know when the best time to visit South Beach Miami is. In the past decade, I've visited Miami for both pleasure and business practically every month.
In my opinion, any month is a good time to visit there. Yet, at the same time, there are times that are better suited for visiting than others.
Let's break it down more.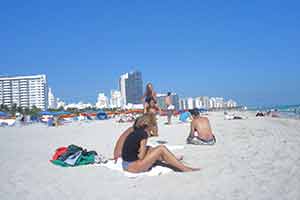 South Beach Miami:
October thru April
If you are in Miami from October thru April, you'll love the warm weather, which is normally 75 -80 degrees. The humidity is gone while the sun shines beautifully all the time.
You can enjoy the following activities during this time of year in South Beach:
Sunbathing on a white, sandy beach
Watching the beautiful sunrise early in the morning
Walking leisurely on the boardwalk for miles alongside the Atlantic Ocean
Dancing to all the latest beats at lively nightclubs
If you live in a cold climate, you will appreciate Miami's fantastic weather even more. Nevertheless, allow yourself a day or two to adjust to Miami's tropical climate.
Visitors get sunburned easily because they spend too much time in the sun during the early days of their visit. I recommend you continuously spray your body with a sunblock 50 plus for sports.
October thru April is the top season for visiting South Beach Miami; however, it's very expensive to do so. Hotels, restaurants, and tour operators all charge a maximum price.
---
Like to swim in the ocean?
If you're looking forward to swimming in the ocean, please note that the water during the winter months can be very cold, especially in January. Even the swimming pools feel like ice! Fortunately, some hotels have heated swimming pools.
In any case, if you still want to swim in the ocean in the wintertime, simply prepare yourself by sitting in a bathtub of ice cold water … just kidding!
South Beach Miami:
May thru September
From the end of May until the end of September, South Beach Miami's weather is super-hot and humid. With so much moisture and warm temperatures, thunderstorms and lightning are inescapable. The good news, though, is that these thunderstorms only last between 20- 30 minutes.
So, while the weather's in a stormy mood, just hide in either the closest coffee shop (you'll find tons of them here) or hotel lobby.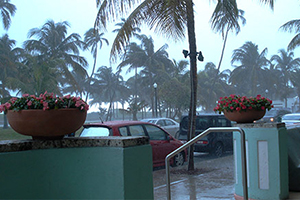 When it's over, continue with your life. By the way, South Beach Miami feels really good after the rain.
For those of you who love to shop, you can find lots of great bargains everywhere during South Beach's off-season. And the beach … oh my! It's always beautiful.
Sunshine, special events and hospitable people
Frankly, I don't think the sunshine is the only thing that makes a trip to Miami unforgettable. I think the special events and the hospitable people you meet make it special too.
Art Basil week
Be sure to visit South Beach Miami either during the Art Basil or Music Winter Festivals. You'll have exciting stories to tell your friends for years to come!
And don't ignore the free events in South Beach Miami. They too can be awesome.
Final thoughts
Also, visit these spectacular places:
These places will open you up to a new and exciting world!
Like St. Augustine once said, "The world is like a book, and those who don't travel it read only one page."
Jessica Gale, hipstyleandvalue.com
Last updated on May 4, 2021.
Recently Updated Articles:
Did you know?
---
Florida law allows drivers to make a right turn on a red light after a complete stop, unless otherwise indicated.

Follow us on Twitter