Trending Now: Leopard Print
Leopard print is trending this year. The exciting thing about leopard prints - even if this trend disappears, it always comes back. So, don't be afraid to buy good quality leopard print clothing. You will use it again and again.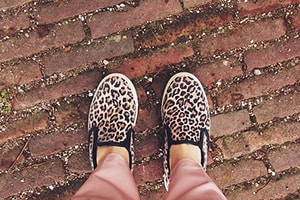 Here are a few tips for you.
Don't overdo it!
Leopard prints will spice up your outfit but use it sparingly like you use spices in your food.
If you start using leopard prints too much - you may spoil the "dish."
Mix and Match
Leopard prints, like most patterns, look good in combination with another solid color - black, purple, or blue. Even fashion designers often incorporate small elements of leopard prints in their solid color designs. So, don't be afraid to mix and match leopard prints with solid colors.
Coordinate with Background Color
Today, you will find many leopard prints on a blue, green, red or any other background. You can even find pink leopard prints, and they look very cool. So, our advice - use the background color as the base color of your outfit and coordinate your shoes, handbag, and accessories with that base color.
Wear Leopard Prints with Leather
Wear the black leopard print sweater with a leather skirt or leather pants. It looks awesome!
Wear Leopard Prints with Denim
Denim and leopard prints are the right combination for the chic, casual look. Wear a leopard print top with jeans, a denim skirt or shorts.
Wear Leopard Prints with Black
When in doubt, wear leopard prints with black. Try leopard print shoes with a black evening dress, or leopard print camisole with the black color leggings.
Jessica Gale, hipstyleandvalue.com
---
Leopard Print Sneakers
SummerWhisper Leopard Print Low Top Platform Sneakers.
Anna-Kaci Leopard Print Racerback Tank. Spaghetti Strap Top.
STEVEN by Steve Madden Women's Staple Ballet Flat.
UONQD Leopard Print Jacket.
Long Hoop Earrings
Humble Chic Drop Earrings.
Leopard Print Coat
FAFOFA Leopard Print Coat with Pockets.
Leggings
Elastic Wonder Leopard Print Leggings. Made In USA.
---
---
Black Party Purse
Nodykka Evening Party Purse. Also, available in light green, pink, and other colors.
Sweater
Angashion Leopard Print Sweater.
Nail Polish Set
SHANY Nail Polish Set with 12 Nude and Natural Shades.
Cardigan
MarcoJudy Leopard Print Button Down Lightweight Open Front Cardigan.
Sunglasses
Vintage Cat Eye Hip Hop Fashion Mod Design Sunglasses.
Long Sleeve Dress
Joeoy Casual Leopard Print Long Sleeve Dress.
Oxiuly V-Neck Casual Dress.
Kimono
O2 COLLECTION Chiffon Kimono Sleeve Cardigan.
Maxi Dress
Afibi Off-Shoulder Long Chiffon Maxi Dress. Comes in many other colors.
Cocktail Dress
VfEmage Elegant Cocktail Leopard Print Dress. Comes in 26 different colors.
Clutch
Clutch and Sling Handbag with Leopard Prints.
Coat with Pockets
FAFOFA Leopard Print Coat with Pockets.
Beret
French Style Vintage Leopard Print Wool Beret. Comes also in khaki and white.
Sweatshirt
SweatyRocks Causal Leopard Print Sweatshirt.
Evening Shoes: BLACK
DREAM PAIRS Classic Fashion Pumps. Available in royal blue, red and other colors.
---