Timeless fashion
A little black dress is something that any woman should have in her closet. Not because Coco Chanel said so, but because it is practical, works for many occasions, and can save you a lot of headaches trying to figure out what to wear.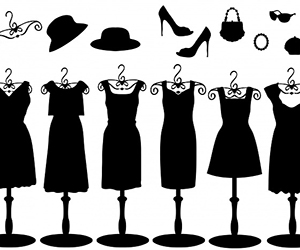 To be clear, a little black dress or LBD is usually a short black dress.
Now, let's figure out how to style it.
How to wear an LBD
It all depends on the occasion.
Are you going to the formal event, cocktail party, classical music concert, or plan to stroll down the boardwalk in South Beach Miami?
The occasion dictates how you will wear this dress, your accessories, shoes, etc.. Which brings up the next question - what to wear with a little black dress?
Formal events
For the formal occasion (gala, fund-raiser) or a cocktail party, wear your little black dress with dressy solid color shoes (red, blue, gold), a small purse or a bracelet bag, and statement jewelry. I like wearing stackable bracelets. What do you like?
On a date
If you are going on a date, you can wear your little black dress with a leather or corduroy jacket, and comfortable shoes or fashion sneakers. Pair it with a boy hat or a beret for a more fun look.
The boardwalk scroll
For the boardwalk stroll, you can wear a black t-shirt dress with a cardigan or color block hooded corduroy jacket and fashion sneakers.
Nail polish color makes a big difference
If you are going to the formal event, wear a gentle light color nail polish - pale pink, grey, or gold. For the nightclubs or hanging out with friends, use your creativity. You can wear funky nail polish designs or bright color nail polish like yellow, green, hot pink. It will make you feel unique.
The crazy and creative nail designs are often good conversation starters.
Synthetics or cotton?
When traveling, we recommend staying with synthetic fabrics because synthetic doesn't wrinkle as fast as cotton.
How do I wear an LBD?
Usually, I wear an LBD when I don't know what to wear. With the bright solid color shoes, crystal multicolor long dangle earrings, and the unusual design small purse, I create the new, unexpected look within a few minutes.
Extra benefit
Not to forget - black makes you look slimmer.
Jessica Gale, hipstyleandvalue.com
---
Sleeveless Black Dress
Unbranded* Sleeveless Dress with Pockets. Casual. Stretchy Jersey Fabric.
---
Black Dress, Soft & Casual
BomDeals Shift Dress. Also, available in red.
Sleeveless Black Dress
Floerns Short Sleeve Ruffle Hem Cocktail Party Dress. Available in many colors.
Cocktail Little Black Dress
Dreaweet Off Shoulder Party Dress.
Sleeveless Black Dress
MISSLOOK Sleeveless Black Dress.
Stackable Bracelets
RIAH FASHION Multi Color Stretch Beaded Stackable Bracelets.
Sleeveless Black Dress
HAOMEILI Cold Shoulder Dress with Pockets. Also, available in 17 different colors.
Evening Shoes: Leopard Print
Sam Edelman Women's Daniella Heeled Sandal, New Nude Leopard.
Shift Black Dress
BELONGSCI V-Neck Bell Sleeve Shift Dress. Many colors. Sizes XS - XL.
Sleeveless Little Black Dress
QIXING Summer Dress. Cocktail Dress. Comes in 26 different colors.
Casual Little Black Dress
MOLERANI Short Sleeve Dress. Available in 12 different colors.
Sequin Black Dress
Flapper Vintage 1920s Sequin Dress. Available in many other colors.
Shawl
Shawl or Wrap with Fringes. Super soft, cute, and cozy. Available in 24 different color combinations.
Nail Polish with Glitter
ILNP Juliette Holographic Nail Polish.
Black Dress With Sleeves
Urban CoCo Lace Sheath Midi Dress.
---
Last updated on May 2, 2021.