Minimalist wardrobe: T-Shirts
There is an opinion that a person needs to own only three t-shirts: white, black, and gray. These basic colors are versatile and will look good with any skirt, shorts, leggings, or jeans.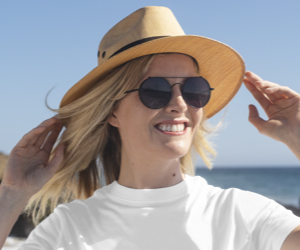 Especially when you travel and the amount of space in your luggage is limited, this minimalist advice can be very handy.
Of course, not all t-shirts are made equal.
Is quality important?
Yes, the quality of the t-shirt is essential. Good quality t-shirts have a smooth, silky feel and make you feel good about yourself. So, yes, look for quality t-shirts.
Tight or loose?
I don't think baggy t-shirts look good on anyone unless you plan to sleep in this t-shirt or walk barefoot at the beach. Neither. The t-shirt should sit perfectly on your shoulders and be the correct size. The rest is up to you.
Short or long?
Some t-shirts are almost dress-long, and some are very short. Choose whatever makes you look slimmer.
V-neck vs. Crew neck t-shirt
If you are a short person, the V-neck t-shirt will make you look taller. If you are tall, then the crew neck / round neck t-shirt will look better on you.
Tuck or Not to tuck?
It is a personal preference. You can tuck your t-shirt to the right, to the left, or leave it untucked. Try to experiment in front of a mirror and find which way will make you look more attractive.
What do you wear over a t-shirt?
Anything. You can pair a t-shirt with a cardigan, leather moto jacket, sweater, or blazer.
Signature jewelry
Don't forget to wear your signature jewelry: stackable rings, colorful bracelets, or dangling earrings. Signature jewelry, more than anything else, defines your style and makes any boring outfit exciting.
What shoes to wear?
Depending on the occasion, you can wear a t-shirt with the fashion sneakers, comfortable sandals, or leather pumps. If you need a pop of color, wear bright color shoes: bright pink or sky blue. We wrote a lot about selecting the right shoes in our article "#ILoveShoes."
---
Synthetics or cotton?
Miami has about 80% humidity and sometimes even more. In a hot and humid climate, it is better to wear t-shirts that are at least half synthetics. A pure cotton t-shirt will absorb humidity and sweat fast and will look awful within few minutes.
MIHOLL Short Sleeve Loose Casual T-Shirt.
Mippo Workout Crop Tops for Women.
SheIn Women's Casual Top.
MIHOLL Short Sleeve V-Neck T-Shirt.
MRIOL Short Sleeve Casual Top.
Romwe Elegant Short/Long Puff Sleeve T-Shirt.
MIHOLL Long Sleeve T Shirt.
J.ING Cross Front Performance Crop.
Adar Underscrubs Long Sleeve Comfort Tee.
Doitory Menor Women 8mm Lava Rock 7 Chakra Aromatherapy Bracelet.
Don't forget nail polish
T-shirts are basic and simple, but if you want to add more excitement to your white, gray, or black t-shirt, don't forget to wear bright color nail polish.
LE VERNIS Chanel Nail Polish.
Flower Earrings
The flowers statement earrings are in style now. They provide a pop-up of color to your rather plain outfit.
4 Pairs Flower Earrings Dual Layer.
---
Last updated on Aug. 30, 2021.
---
Disclosure: Links to these items have been handpicked by our editorial team. We have affiliate relationship with many online stores, so in some cases, if you purchase an item here, we may get a small share of the revenue from your purchase.