The 24 cool outfits to wear with black jeans
What to wear with black jeans? It all depends on where you are planning to go. Are you going to the casual bar, Lady Gaga concert, business event, or the art museum? Is it going to be an indoor event or you will be outdoors all the time? Finally, do you like to wear high heel pumps or comfortable flats?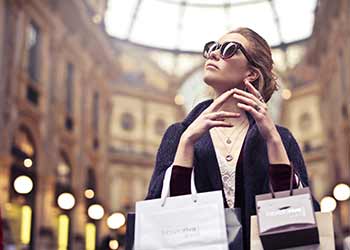 For casual look
If you are going to the casual bar or having dinner with friends, you can wear your black jeans with a cozy yet dressy sweater and fashion sneakers. Don't forget statement jewelry!
Pop music concert
For the electropop and dance-pop music event, you can wear black jeans with a special edition graphic style t-shirt, a colorful leather, suede or denim jacket and high-heel pumps.
Going to the business event
Many business events today have a business casual dress code. In this case, wear black jeans with a lightweight solid color dressy jacket and a similar shade sleeveless shirt.
The trip to the art museum
If you are going to the art gallery or a museum, you can wear your black jeans with a sweater, accent scarf, and bright color tassels earrings or stackable bracelets for a more bohemian look. A freshwater cultured pearl bracelet will also look classy and chic with this outfit.
The indoor or outdoor event
If the event is indoors, wear black jeans with a dressy chiffon blouse or sweater. For the outdoor party, especially in winter time, wearing black jeans with a colorful top and an open front fleece jacket or coat could be the right choice.
What else
Shoes are an essential part of women's wardrobe. Shoes can either make you stand tall or will ruin your outfit. Never forget it!
Check out our #ILoveShoes collection for shoe inspiration.
Jessica Gale, hipstyleandvalue.com
---
Cropped Cardigan
Belle Poque Collared Cropped Cardigan. ($23.99).
Suede Jacket
Apperloth Faux Suede Jacket.($32.99.)
Denim Jacket
Riders by Lee Indigo Stretch Denim Jacket. ($29.99.)
Chiffon Blouse
Urban CoCo V Neck Ruffled Shoulder Chiffon Blouse. ($16.86.)
Flair Sleeve Top
SheIn Puff Sleeve Casual Top. Sizes XXS - XXL. ($17.99.)
Romwe Elegant Printed Stand Collar Workwear. ($19.99.)
---
Casual Shirt
FARYSAYS Lace Crochet V Neck Bell Sleeve Button Down Casual Shirt. ($23.98)
Casual Sleeveless Top
AlvaQ Summer Pad Shoulder Tank. ($17.99.)
Crew Neck Tank
WATERMELONMODA Sleeveless Shoulder Pad Top. ($18.98.)
Crew Neck Top
Meladyan Solid Cotton Padded Shoulder Top. ($18.99.)
Padded Shoulder Top
SweatyRocks Floral Print Top. ($14.99.)
Open Front Cardigan
HSRKB Sleeveless Vest Plaid Hem Drape Open Front Cardigan. ($25.99.)
Summer Sandals
Clarks CloudSteppers Arla Belle Strappy Slingback Wedge Sandals. ($54.99.)
Ancient Greek Sandals Womens Anastasia Comfort.($210.00.)
Short Sweater
KIRUNDO Stripe Color Block Short Sweater.($28.99.)
Dressy Top
SheIn Puff Sleeve Casual Solid Top. ($19.99.)
Collar Blouse
Allegra K Collar Blouse. ($22.99.)
Flower Earrings
4 Pairs Flower Earrings Dual Layer. Gift for Her.($12.99.)
D.Rosse 2 Pairs Chic Boho Matte Flower Statement Stud Earrings. ($12.98.)
Statement T-Shirt
BLACKMYTH Graphic T-Shirt.($10.99.)
Cropped Sweater
ZESICA Long Striped Color Block Casual Sweater. ($21.59.)
D.Rosse 2 Pairs Chic Boho Matte Flower Statement Stud Earrings. ($12.98.)
Cardigan
Simplee Oversized Lantern Sleeve Loose Cozy Cable Knit Cardigan. ($29.99.)
Pullover
KUFV Long Sleeve Pullover. ($22.99.)
Lightweight Accent Scarf
Paisley Rose Jacquard Scarf. ($19.99.)
Yellow Panel Blouse
LookbookStore V Neck Mesh Panel Blouse. ($19.99.)
---
NEXT, read our article about Leopard Print Outfits for Women.
Recently Updated Articles:
Last updated on Sept. 12, 2021.
---
Disclosure: Links to these items have been handpicked by our editorial team. We have affiliate relationships with many stores, so in some cases, if you purchase an item here, we may get a small share of the revenue from your purchase.