These 10 items I always bring with me on a trip
I am a minimalist. I travel a lot, but my trips are short, usually 3 - 7 business days. Here are 10 things that I always bring with me on any trip.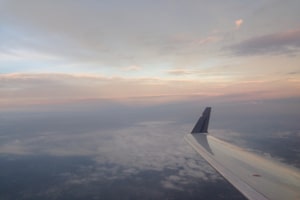 Travel tip #1: Pack a foldable sun hat with UPF 50+
The packable sun hat with 50 UPF protection is a necessary addition to your wardrobe today, especially when you travel to the beach area. You can always find one that is colorful and looks good on you.
Travel tip #2: Buy good quality earplugs
Sometimes, little things make a big difference. You may need earplugs at the airport or when you sleep - if you stay at the hotel located on a boisterous street. Not all earplugs made the same; some of them, especially those given to you for free by the hotel, often don't stay in your ears. It would be best if you experimented with different brands to find one that fits you perfectly. When traveling, I usually bring earplugs with me. They don't take much space.
Reusable Silicone Ear Plugs for Sleeping, Swimming, Snoring, Concerts, 32dB Highest NRR, 3 Pairs with Bonus Travel Pouch. ($9.79)
Travel tip #3: Bring a plaid blanket scarf
Don't forget to pack a plaid blanket scarf even when going on a trip in summer. Sometimes temperature drops at night, and you will be happy you have a blanket scarf in your bag. You may also find it very useful on a plane.
---
Travel tip #4: Buy a carry-on duffel bag
I am one of those people who will do anything to not check in my luggage at the airport.
My carry-on duffel bag is 17 inches long and 12 inches high allowing me to carry enough clothing to wear for a week. When buying a carry on bag, make sure it is lightweight, has metal studs on the bottom to keep the duffel bag off the ground, and has good quality and comfortable shoulder straps, preferably leather or PU leather.
Travel tip #5: Wear walking sandals
I always bring with me walking shoes. Usually, they are either black, navy, or unusually bright, like pink or yellow.
Travel tip #6: Bring 3 T-shirts
You can't travel today without having a few T-shirts in your bag. I pack three T-shirts with me: white, black, and one graphic T-shirt. With a denim or leather jacket, and a black skirt, they usually look just right in any situation. Plus, if it is cold outside, you can wear a T-shirt under any sweater.
Travel tip #7: Pack a black skirt
Some women love to bring a little black dress for any trip, but I like to bring a black skirt that doesn't wrinkle. Usually, I end up wearing it a lot on any trip.
Travel tip #8: Warm sweater a must
A warm, soft sweater that goes with everything is another must-have item in my duffel bag. I like to bring a thin, soft sweater on any trip. It makes me feel at home when I travel.
Travel tip #9: Jogging pants for the gym
There may be a boardwalk in a beach area, and you would want to go for a run, or you may use them at the hotel gym. The jogging pants are another must-have item to pack for a trip.
Travel tip #10: Denim jacket - you can't travel without it!
I love denim jackets. Denim never goes out of style and works with almost any casual outfit. I wear my denim jacket on me when going on the airplane.
Final thought: Be practical
Even so, this is not a full list of items I bring with me when I travel, I always end up wearing fewer things that I pack. Whether you are on a 3 or 7-day trip, whether you travel for business or pleasure, there is not enough time to change outfits a few times a day. So, my last travel tip to you - balance cute and practical.
Jessica Gale, hipstyleandvalue.com
---
---
Disclosure: Links to these items have been handpicked by our editorial team. We have affiliate relationships with many stores, so in some cases, if you purchase an item here, we may get a small share of the revenue from your purchase.