Simple ideas for a Halloween costume - for women
Watching crowds on Lincoln Road in South Beach Miami on a Halloween night is the best entertainment in town. We wrote about Halloween Parade in South Beach Miami here and here.
What is the best Halloween costume?
A Halloween costume may not always be a costume per se. Unless you specifically were told to wear a disguise to the Halloween party, you can use what you already have in your closet.
Best colors: Black & Red
The black and red colors work the best for a Halloween party. Wear a cute black dress and dressy pumps (preferably red). Then color your hair in neon blue, green, or yellow, add the Halloween theme accessories (spiders rings, scarfs, hairpins, or bracelets with skulls), a crazy Zombie makeup, and you are good to go.
Nail polish: Black
Most Halloween themed nail patterns and designs look good on black. So, our advise - go for black nail polish!
Don't forget the leather
A black leather jacket, studded leather head wrap, French-style leather beret, or a newsboy hat will always look cool on a Halloween night.
Finally
After a long, but delightful research, we came up with the following ideas for Halloween outfits. Check BELOW!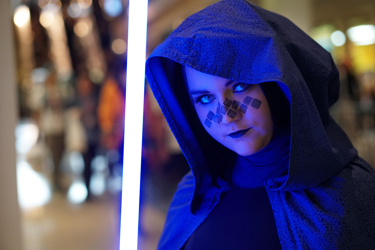 ---
Halloween Party Dress
Bracelet with Skulls
Betsey Johnson Pink and Gold Black Leather Bracelet. Price: $38.00
Sugar Skull Party Dress
Black Cat Pendant Necklace
Black Cat Cameo in Antique Silver Finish Pewter Frame Pendant Necklace.
Price: $12.99.
Black Nail Polish
Zoya Polish Quad Nail Polish, Winter Wishes, 4 Count by ZOYA. Price: $15.00.
---
Black Dress with Skeletons
Halloween Dress. Skeletons & Pumpkins Printed. Price: $28.99.
Halloween Scarf
D&Y Halloween Theme Sheer Loop Infinity Scarf. Price: $9.24.
Red Pumps
Pleaser Red Dressy Amour-03 Pumps. Price: $35.95.
Yellow Hair Color
Punky Bright Yellow Semi Permanent Conditioning Hair Color, Vegan, PPD and Paraben Free. Comes in cherry, green, lilac, and other colors. Price: $6.99.
CATmouflage Leggings
R862-OS CATmouflage Print Fashion Leggings. Price: $11.99.
Top Gun Dress
Leg Avenue Top Gun Zipper Front Dress. Price: $30.49.
PU Leather Hat
Newsboy hat. PU Leather. Price: $14.99.
Feather Circle Tote Bag
Loeffler Randall Zadie Feather Circle Tote Bag. Price: $350.00.
Halloween Style Handbag
Handbag Hobo Handbag with Multiple Pockets. Price: $34.99.
Confetti Earrings
Betsey Johnson "Confetti" Mixed Multi-Colored Stone Lucite Heart Drop Earrings. Price: $34.00.
Halloween Makeup - Zombie
Zombie Makeup, Halloween Makeup, 11 Unique Sheets, Fake Blood, Scar Tattoos, Halloween Tattoos.
Price: $11.99.
Bandage Black Club Dress
Memorose Sexy Long Sleeve Cut-Out Bandage Club Dress. Price: $19.99.
Red Evening Clutch
KISSCHIC Vintage Beaded and Sequined Evening Bag. Price: $25.98.
Fashion Boots
Loeffler Randall Women's Nellie (Haircalf) Chelsea Boots. Price: $426.00.
---
Last updated on May 4, 2021.
---
Disclosure: Links to these items have been handpicked by our editorial team. We have affiliate relationship with many stores, so in some cases, if you purchase an item here, we may get a small share of the revenue from your purchase.