What to Wear to a Music Festival
At the music festival, people are wearing all kinds of crazy outfits. At the matter of fact, "Crazy" is what defines most of the clothing for any outdoor music festival.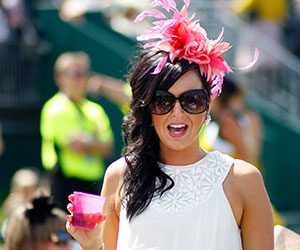 When going to the music ask yourself, "Do you want to be in the center of attention? " or "You just want to watch the crowd." If you are like me, who likes to watch the crowd, because, well, there is a lot to watch, in addition to listening to electronic music - then wear cute casual style clothing. You can add one little thing to your simple outfit - an unusual hair clip, unique bag or neon sunglasses, just to show that you are part of the festival. But, if you want people to notice you, scroll down to see what we found for you to wear.
The 3 Things to Remember
If in doubt, wear tie-dye clothing. The tie-dye clothing looks fantastic at the outdoor events.
Wear comfortable shoes.
Don't forget to bring to the music festival a sunscreen lotion or spray.
Most importantly, have a great time!
Jessica Gale, hipstyleandvalue.com
---
Leg Wraps
iHeartRaves Leg Wraps. Pair of Non-Slip Garter Set with Ribbons. ($13.95.)
Crop Top
Novia's Choice Shiny Sequin Crop Top. ($16.99.)
Comfort Sandals
Gold Pigeon Shoes GP Signature SNAP Lock Comfort Sandals. Many colors. ($44.99.)
Polka Dot T-Shirt Dress
MITILLY V Neck Ruffle Polka Dot T-Shirt Dress with Pockets. ($26.99.)
Hamoery 8mm Lava Bracelet. Aromatherapy Essential Oil Diffuser Bracelet. Yoga Beads.
Fascinators Party Headband. ($10.99.)
Music Festival Clothing for Women
Faux Fur Furry Hoodie with Paws Ears. ($20.99.)
ZUCKER Feather Mohawk - Coque - Black - 8-10". ($39.33.)
---
---
iHeartRaves Sheer Mesh Crop Top. ($19.95.)
Sienna Sky UV-Printed Sugar Skull Day of the Dead Earrings 1982. ($32.95.)
GelConnie Viking Bracelet. Gothic Leather Wristband Bracelet with Nordic Amulet. Scandinavian Talisman. Celtic Pagan Jewelry. ($9.89.)
iHeartRaves Boho Booty Short Bottoms. ($29.95.)
Inorin Womens Open Front Cardigan Faux Fur. Also, available in Black and Beige. ($30.98.)
Neon Nightlife Pink Frame by NEON NIGHTLIFE. ($19.99.)
Music Festival Unique Bag
Betsey Johnson Answer Me Phone Bag.($68.55.)
Music Festival Clothing for Men
VATPAVE Mens Summer Tropical Shirt. ($21.99.)
Odin Nordic Thor T-Shirt. ($18.95.)
INTO THE AM Men's Graphic Tank Top. ($19.95.)
Blittzen Mens Tank Melting Skull.($14.95.)
Hair Color Dye. Semi Permanent. 100% Vegan. Available in green, blue and other hair colors. ($17.99.)
COOFANDY Mens Fringe Suede Vest. Hippie Costume. ($29.99.)
TURTLEDOVE Viking Bracelet. Nordic Bracelet with Medieval Futhark Rune. Celtic Pagan Amulet. ($11.99.)
Thor Hammer Nordic Rune Mythology Wolf Viking Tank. ($19.95.)
Koloa Surf Wave Logo Hoodie. ($27.95.)
---
Need more music festival outfits ideas? Check out some of these similar articles:
Last updated on June 2, 2021.
Disclosure: Links to these items have been handpicked by our editorial team. We have affiliate relationship with many stores, so in some cases, if you purchase an item here, we may get a small share of the revenue from your purchase.