South Beach At Night (continued)
If you are not familiar with South Beach Miami Nightclubs, here are tips for finding the ones to visit first.
Stop by a nightclub one evening and ask people waiting in line - there are usually long lines of people waiting to get in. Folks will offer opinions to be helpful. It's up to you to match up suggestions with your own desires.
Talk to staff and other guests at your hotel.
Ask locals who may be familiar with the nightclubs.
Or, check our list of some hot nightclubs in South Beach Miami.
---
---
About Nightclub Fans
We interviewed many people of different ages while compiling our list of favorite nightclubs.
Some people we asked were foreign tourists on vacation in Miami.
Some came from different parts of the United States.
Ages ranged from the twenties into the sixties.
They all loved dancing. They loved dance music. They loved being in South Beach.
Price for entrance tickets to nightclubs (between $20 - $60 depending on the event, plus drinks) - didn't much matter for them.
Need even more ideas?
Watch Miami Beach Nightclub's videos on youtube.com.
Real people. Real parties.
The Hottest Nightclubs In South Beach Miami
1235 Washington Ave, Miami Beach,
Phone: 305-531-5535
1 Ocean Drive, Miami Beach,
Phone: 305-538-1111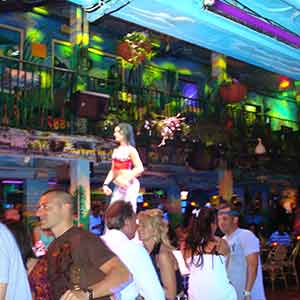 900 Ocean Drive, Miami Beach,
Phone: 305-672-2000
1811 Purdy Ave, Miami Beach,
Phone: 305-531-5535
More Nightclubs
1685 Collins Ave Ave, Miami Beach, Saturdays
Phone: 305-672-2000
5701 Sunset Dr (in the Shops at Sunset Place) South Miami,
Phone: 305-665-3052
320 Lincoln Road, Miami Beach
Phone: 305-531-2800
Quick Links
What to Wear to a Nightclub?
"The key to looking great in the evening is to look original.
Try to look different from others without looking out of place.
When everyone else is wearing black, stand out in a bold, bright color.
Focus on one thing.
Will it be a statement necklace, a stunning pair of earrings, or really big hair?
You decide."
fashion designer Isaac Mizrahi, "How to Have Style"
What's Your Favorite?
What is your favorite South Beach Miami Nightclub?
Tell us your story!

Follow us on Twitter