Historic Fun in the Sun: Classic Cars in South Beach Miami (continued)
My thoughts deepened about these cars' histories.
I contemplated thoughts:
How many people owned these cars?
What kind of life do the present owners live?
When do they use these cars?
How have these cars affected their lives?
Why are these cars being purchased today?
How much work was involved in rebuilding these cars?
I also contemplated how the automobile has changed tremendously over the past 8 decades: going from the sophisticated Bentley Convertible or one-of-a-kind, custom-made Duesenberg SJ to the Solar Energy Nissan Leaf.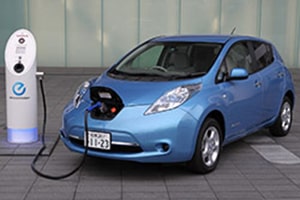 Although it's not a classic car, the Nissan Leaf is still a unique one. I have friends who have this car and they love it!
It enables you to communicate remotely via your computer or smartphone. The drawback, however, is it can't be recharged everywhere. Not yet. As a result, it's not drivable on long trips.
Time and the auto industry are sure to change this drawback. After all, look how far we've come since the early years of vintage cars.
On the note of the antique cars, I was highly intrigued by them.
They were more than just a vehicle to get you from point A to point B. They were part of history.
These cars are history beyond the assembly line.
They're history because they've been a part of someone's lives.
A Final Note
I think the Classic Car Parade is the most fascinating part of Art Deco Festival.
It not only entertained me, but it also made me think about history – something we all need to do from time to time.
And there's no better place to reflect on the past than in beautiful, sunny South Beach Miami.
By Jessica Gale, hipstyleandvalue.com
Click on this link to see the Classic Cars Photo Gallery.
---
---