Tips for Choosing the Right Purse for the Evening Party
Your handbag is the essential accessory in your wardrobe. People see it more easily than your shoes because your bag is closer to eye level.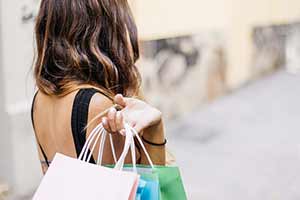 Your Perfect Party Purse
When going to the party, try to bring the smallest handbag you can find that can carry all your essentials:
Cell phone
Key
Credit card
Mascara
Eye Pencil
Comb ot foldable brush
Breath Mints
Lip gloss
Quality Is Important
The trends for clutch handbags and party purses change every year, and still, a good quality leather bag will never go out of style.
The Bracelet Bag
The bracelet bags are trending this year. A bracelet bag is a petite bag with a striking brass bracelet. It can be worn cross-body or carried in hand. From reasonably priced to super expensive, a cute small bracelet bag will make a fashion statement and become an excellent addition to your wardrobe.
The Round Bag
The trend for round bags is not going anywhere. The bright color small round bag can spice up your outfit during the day or at night. The embroidered round bag brings even more character.
The Color of a Party Purse
Your party purse doesn't have to match the color of your dress or your shoes. Contrasts are great! For example, wear a black dress with a fluffy pink party purse or a white skirt with a navy or maroon color top-handle bag.
If you are in doubt, the neutral color (beige, light grey, light pink) small handbag with a cute metal chain, would work with any outfit.
What is Trending Now?
The top-handle bags are dominating everywhere. According to the trendsetters or Instagram models, the top-handle bag is the only bag that matters this year.
Fun Party Purse
Just for fun, try to wear a small purse of an unusual shape, like a teapot shaped bag at the end of this page.
---
Fluffy Feather Round Clutch
Mogor Faux Fur Fluffy Feather Round Clutch. Also, available in blue, black and white.
Handbag with Rhinestones
COOFIT Denim Blue Knitted Top Handle Handbag with Shiny Rhinestones.
---
Black Party Dress
BomDeals Shift Dress. Also, available in Red.
Mesh Wristlet Pouch
Mesh Wristlet Pouch. Many Colors.
Top Handle Bag
Fashion Shoulder Bag with Wallet. Structured Top Handle.
Party Dress
Beacher Zacharias Bodycon Party Dress.
Evening Clutch Bag
Milisente Evening Clutch Bag. Many colors.
Ball Clutch
Lanpet Round Ball Crystal Evening Clutch.
Envelope Clutch
GESU Shining Envelope Clutch.
Wristlet Clutch
Jessica McClintock Gwen Ball Mesh Ring Wristlet Pouch.
Fluffy Feather Round Clutch
Mogor Faux Fur Fluffy Feather Round Clutch. Also, available in pink, black, and white.
Evening Clutch
Tanpell Crystal Evening Clutch. Party Purse.
Glamorous Purple Clutch
Nodykka Evening Party Purse. Available in grey, red, and other colors.
Teapot Purse
Funny Gothic Purse. Teapot Shaped Bag. Pu Leather.
Ball Shape Purse
QZUnique Ball Shape Purse.
Crossbody Round Bag
Ethnic Style Embroidered Round Crossbody Shoulder Round Bag. Party Purse. DIMENSIONS - 6.69"L x 2.75"W x 6.69H; Metal chain length: 51".
---
NEXT, read our article What to Wear to a Party - from the pool party to the cocktail reception and everything in between.
For more fashion inspiration, read our articles BELOW:
Last updated on May 2, 2021.
---
Disclosure: Links to these items have been handpicked by our editorial team. We have affiliate relationships with many stores, so in some cases, if you purchase an item here, we may get a small share of the revenue from your purchase.