Chic Fashion: Party Dresses
Overall, in South Beach Miami women and men like appreciate fashion. Even so, during the day most people spend time sunbathing on a beach - at night it's a party time. A big time.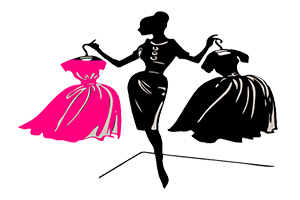 A Perfect Party Dress
What is the most important element of a party presss? For me it is color. Somebody once said, "If you want people to remember you after the party - always wear Red. If you come to the party to network with other people, then wear Yellow, the color of communicators."
I can only add to this - when in doubt, wear a black party dress with dark red evening pumps or sexy leopard print pointed toe high heels. It always works.
Glitter Bodycon Dress
A glitter bodycon dress will make a perfect outfit for almost any party, during the day or at night. It is better to use very few accessories and wear a solid color shoes with a glitter dress. Otherwise, it becomes too much. The same is true about wearing striped dresses and leopard print dresses. And, by the way, both look really hot, especially at night, when you are in Miami!
Casual Party
For a casual look, wear a T Shirt dress with fashion sneakers or comfortable flats. You can add a striped cardigan or leather jacket to your outfit and this is all you need for a casual party.
Synthetics or Cotton?
Synthetics. Synthetic fabrics or blends require little to no maintenance. In South Beach Miami, wearing clothes from synthetic fabrics is simply more practical. In a very humid climate, like Miami, your cotton party dress will become wrinkled after one hour.
Weather at Night
Even so, during the day it is very hot and humid in Miami, at night temperature can drop significantly, especially during winter time. So, be prepared and have a large fashion scarf or denim jacket with you, just in case.
What Else...
Donna Karan once said, "Evening is a time of real experimentation. You never want to look the same way." So, don't be afraid to add a pop of bright color, a piece of statement jewelry or a small leopard print or striped pattern purse.
Jessica Gale, hipstyleandvalue.com
---
Zeagoo Elegant A-line Sleeveless Party Dress. Floral Lace. Cocktail Midi Dress with Belt.
Milumia Women's Boho Off The Shoulder Swing Maxi Party Dress.
SVALIY Off Shoulder Ruffles Floral Party Dress.
Party Dresses:
Black, Floral, Red, Blue
Meilun Deep V Neck Bead Bodycon Party Dress.
Oxiuly Party Dress. Patchwork Pockets. Party Dress. Comes in 18 color combinations.
Zalalus Sleeveless Floral Lace Cocktail Party Dress.
Bracelet Diameter: 2.5"(60mm) in diameter, but elastic. Length is adjustable. Durable Rope. Never Need to Worry About Size Problem. Multiple colors.
Fantaist Mini Party Dress. Patchwork Lace. Comes in 7 different colors.
Risesun Bohemian Vintage Printed Ethnic Style Party Dress. Comes in 7 different colors.
Sidefeel Floral Print Off Shoulder Bodycon Dress.
Red Evening Sandals
YooPrettyz Low Heel Evening Sandals. Also come in black, blue and gold.
MIROL Off Shoulder Striped Dress. Comes in 4 different colors.
---
Party Dresses:
White, Purple, Patterns
SVALIY flowers Off Shoulder Party Dress. Split Chiffon. Comes in 3 different colors.
Ankola Boho Bodycon Dress.
Sidefeel Women Off Shoulder Ruffles Bodycon Mini Dress.
Comes in black, blue, purple and many other colors. A perfect dress for South Beach Miami!
Romwe Short Sleeve Summer Tassel Dress. Comes in burgundy, blue and other colors.
VFSHOW Leopard Print Dress. Comes in 4 different colors.
NANFANGLI Summer Dress. Off Shoulder. Fit Comfy. Floral Print.
Meilun Two Piece Stretch Bodycon Set. Comes in black, red, blue and other colors.
Dress Pumps. Leather.
---
Last updated on Oct. 20, 2018
---
---