The 22 party dresses
Overall, in South Beach, Miami, women and men appreciate fashion. Even so, during the day most people spend time sunbathing on a beach - at night it's party time. A big time.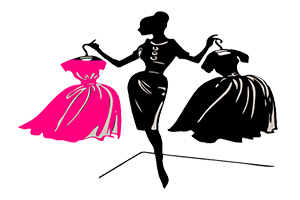 A perfect dress
Generally, glitter bodycon dresses or sequin dresses with signature accessories and high heel shoes will look good in the evening.
Colors
What is the essential element of a party dress? For me, it is color.
People always remember the girl in Red. So, if you want people to remember you - always wear Red at the evening event. However, if you come to the party to network with people, then wearing Yellow could be not a bad idea. Yellow color, traditionally called the color of communicators.
And then, there is the Color of the Year. This year The Color of the Year is a Living Coral. The coral color doesn't look good on everyone, but the Black color usually does.
So, if you run out of ideas what color should be your evening dress, remember Coco Chanel's advice and wear a little black dress. With dark red evening pumps or sexy leopard print pointed toe high heels and signature accessories, a little black dress will look appropriate for any party.
Midi, mini, or maxi dress?
Anything goes at night. Whatever makes you feel comfortable and unique.
Dresses with lace
For an evening dress, lace is always a good idea. We added black, red, and purple lace dresses to our list. Keep scrolling to learn more!
Sexy look
Are you looking for a hot party outfit? Go for leopard prints! A sexy leopard print party dress is not always black, brown, and white. Today, you can find leopard prints on a blue, red, or even green background. More leopard print dresses are available here.
Christmas party
The satin and velvet dresses look very good at the Christmas party. If you like classic style, accessorize it with gold or Perl's jewelry. If you want a more modern look, wear statement jewelry and a tiny unique purse.
Casual party
For a casual look, wear a T-Shirt dress with fashion sneakers or comfortable flats. You may add a striped cardigan, a motorcycle leather jacket, a pop of bright color purse, or a piece of statement jewelry to your casual-chic attire.
Pool party
Any summer dress with cute flip-flops or platform sandals will work for a pool party. Not in a mood for a summer dress? No problem. Try denim shorts and a statement T-shirt. And don't forget to bring a swimsuit to the pool party. After all, you are by the pool.
Synthetics or cotton?
In South Beach Miami, wearing clothes from synthetic fabrics is merely more practical - synthetics or blends require little to no maintenance. In a very humid climate, like Miami, your cotton or linen party dress will become all wrinkled in an hour.
Trends for 2020
Colorful leather dresses are becoming a new trend, as well as neon colors (pink, blue, green). In the Spring of 2020, you will see many adorable and refreshing floral prints and oversized bags. Do you have to wear all of this? No. You wear what looks good on you.
Micro Trend
The micro trend usually doesn't last long, maybe one season, but they make a big impact. Right now, everyone is talking about glass jewelry.
What else
If you are into fashion and find yourself in a situation when you want to look younger, you may follow the advice of Hollywood stylist Andrew Welwicks and wear vibrant purple, bright pink or red.
Jessica Gale, hipstyleandvalue.com
---
Party Dresses: Floral, Leopard Prints + Yellow Leather
Azalosie Wrap Maxi Dress. Also, available in other colors. Price: $36.99.
SheIn Sexy Sleeveless Leopard Print Bodycon Dress. Price: $27.99 .
Women's Holiday Faux Leather Fashion Midi Bodycon A-line Dress with a Belt. Price: $49.99.
Gold Bracelet
Solid 18K Gold Bracelet for Women, Real Gold Bead Chain Thin Bracelet, Small, 6.3"+0.8".
Price: $79.00.
---
---
Micro Trend: Glass Jewelry
Roaming Oyster Italian Style Murano Glass Multi-Colored Glass Memory Bracelet. Price: $31.47.
BOMAIL Tree of Life Pendant Bohemian Bead Multi Layer Statement Bracelets. Beach Charm Bracelet. $12.88.
Party Dresses
MEROKEETY Sleeveless Lace Floral Party Dress. Many colors. Price: $31.44.
VintageClothing Floral Print Maxi Party Dress. Many colors. Price: $33.44.
Oxiuly Party Dress with Patchwork Pockets. Also, available in 18 color combinations. Price: $29.96.
AlvaQ Sexy V Neck Sleeveless Purple Lace Dress. Available in other colors. Price: $32.00.
InsNova Sexy V-Neck Green Velvet Bodycon for Holiday Party. Price: $28.92.
Lovezesent Elegant Sequin Tassel Cocktail Party Dress. Price: $45.99.
Rocorose Turtleneck Ribbed Elbow Long Sleeve Knit Sweater Dress. Available in many colors. Sizes XS - XXL.
Price: $37.99.
Alvaq Sexy V Neck Sleeveless Lace Dress. Sizes: S - XL. Many colors.
Price: $40.99.
DIDK A Line Floral Embroidery Mesh Sheer Evening Cocktail Dress.
Sizes: XS - XXXL. Price: $39.99.
More Party Dresses
Milumia Plus Size Round Neck Long Lantern Sleeve Belted Cocktail Party Dress. Price: $36.99.
Knit Cap Sleeve Hi-lo Dress.
Price: $42.64.
Calvin Klein Women's Gella Dress Pump. Price: $108.95.
Milumia Boho Button Up Split Flowy Party Dress. Many colors and patterns. Price: $24.99.
Milumia Button Up Split Floral Print. Price: $32.99.
Calvin Klein Solid Sheath with Three Quarter Chiffon Bell Sleeve Dress. Price: $132.36.
Max Studio Printed Chiffon Back Tie Halter Shift Dress. Price: $89.00.
Sam Edelman Women's Stillson Pump, Oatmeal Suede. Price: $41.00.
MISSMAY Vintage Floral Lace Dress. Also, available in other colors.
Price: $39.99.
YATHON Elegant Polka Dot Party Dress.
Price: $27.98.
Beacher Zacharias Sexy Deep V Neck Halter Striped Evening Party Dress. Many colors. Price: $48.99.
Kate Spade New York Reiley Flap Crossbody Bag (Seaside). Price: $81.00.
Kate Spade New York Women's Margaux Medium Convertible Crossbody Peachy One Size. Price: $89.99.
---
Recently Added
Last updated on Dec. 10, 2019.
---
Disclosure: Links to these items have been handpicked by our editorial team. We have affiliate relationship with many stores, so in some cases, if you purchase an item here, we may get a small share of the revenue from your purchase.